Though the Smartbox company works only in 23 states and offers slightly more expensive services than competitors, it can be a good choice. In a nutshell, a Smart box moving is a company that offers containers to lease and helps with their movement. What to do with your container is up to you. Suppose you are thinking about relocation or do not find enough space to store your things, read the following text. You'll learn if Smartbox moving company is what you need.
What to Know About Smartbox?
First of all, the Smartbox company works in the USA. In most, it covers eastern (including Washington DC) and central states. California and Washington are covered as well. The services of the company cover moving between the states of activity and local moves (within a particular state). Smartbox has got a website. And, according to our impressions and other Smartbox reviews, it is not the strongest side.
Though it looks pretty – good coloring, interesting stock photos, interactive elements, etc., the main functions are glitchy. We did not manage to get a free quote (which is advertised on every page). We were not successful with the online chat as well. The customer representative did not appear for more than five minutes during the operating hours. Without a quote, you can learn neither the exact price for your service nor the average pricing for the services. You are welcome to read Smart box reviews where you can find what people discovered concerning prices for moving and storing.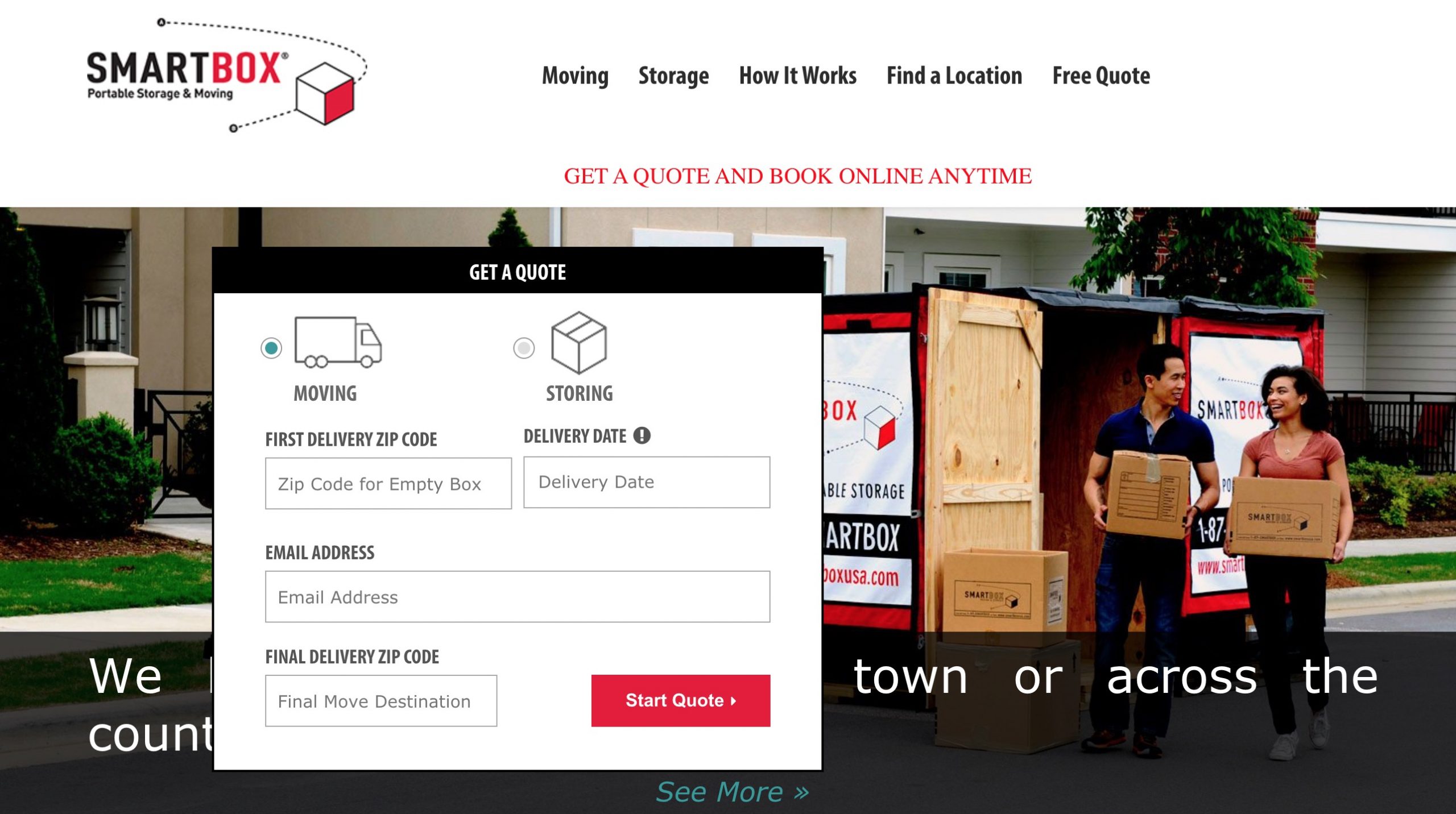 Talking about the interesting moments on the site, you can read a blog or interesting descriptions of locations. A blog contains useful tips about moving and recommendations concerning location choice. On a separate page, you'll find the customer reviews made on Google. There are only six of them (and no options to read other 188 reviews on a site). Taking into account that the two latest reviews are similar, but they have been posted by two different people on different dates, this part looks suspicious. More suspicions appear if you manage to find the SmartBox page on Trustpilot. There, the majority of people look a bit frustrated with the service.
A phone call remains the main way to contact a company. There is also an email, a physical address of their support center, online chat (with minor changes to wait for a live person's response), and social media accounts (Facebook, LinkedIn, and YouTube). YouTube channel has only two videos and has not been updated for five years. LinkedIn has no publications. Facebook page duplicates the posts from a company blog. It is the only actual page with around 600 followers.
However, people's opinions and appreciation do not play a significant role in the sphere of moving companies. Let's go further to learn the pros and cons of Smartbox moving and storage for you as a potential client.
Pros and Cons of Smartbox?
Smartbox storage stays a quite remarkable player in the moving and storing market. It has its own ups and downs, convenient or not for their clients.
Pros
The variety of services and moving options is wide. One can lease the full service: workers will move things from home, deliver them, and leave the container near the customer's place. Otherwise, you can move the staff into a container on a company's base, and it will be delivered to the other base near your new location. Such a service is cheaper.
The company claims that it provides transparent quotes. The final price for Smart boxes moving includes taxes and all fees. According to different Smartbox moving reviews, it is true. However, some customer reviews complained about different hidden or unclear prices.
Special offers that concern students and military service people. Students can use a special Smartbox moving promo code for a discount. The company has been heard to give special offers for students due to the CoViD-19 problem and dormitory closure.
There is an option to insure the belongings against damage during the long-distance moves. It is not a unique feature, but pleasant and deserves to be counted as a pro.
If you own Smartbox storage and have a willingness to move, a company will move a container with your saved things to a new location if their base is located nearby.
The same concerns the containers from your home while you move. If you do not know the new location or a new house is not ready to store your items, you can keep them on the Smartbox base and take them whenever you want. Containers can be kept on your land as well for a higher price.
The policy of the Smart box storage allows a lower price for an order if you use it partially. You have estimated your belongings to fit eight containers (the maximum number of containers available for one person) and use only five of them. The company will not charge you for three unused containers.
Among the positive reviews, the clients claim that the service manager, if they are reached via call, is friendly and helpful. They can provide you with all information and solve a mistake or change the services if you need them.
The essential peculiarity of the company that highlights it among competitors is a variety of services. It is so flexible that you can save more money than with other moving companies. However, the Smart box portable storage company has got the cons you should consider.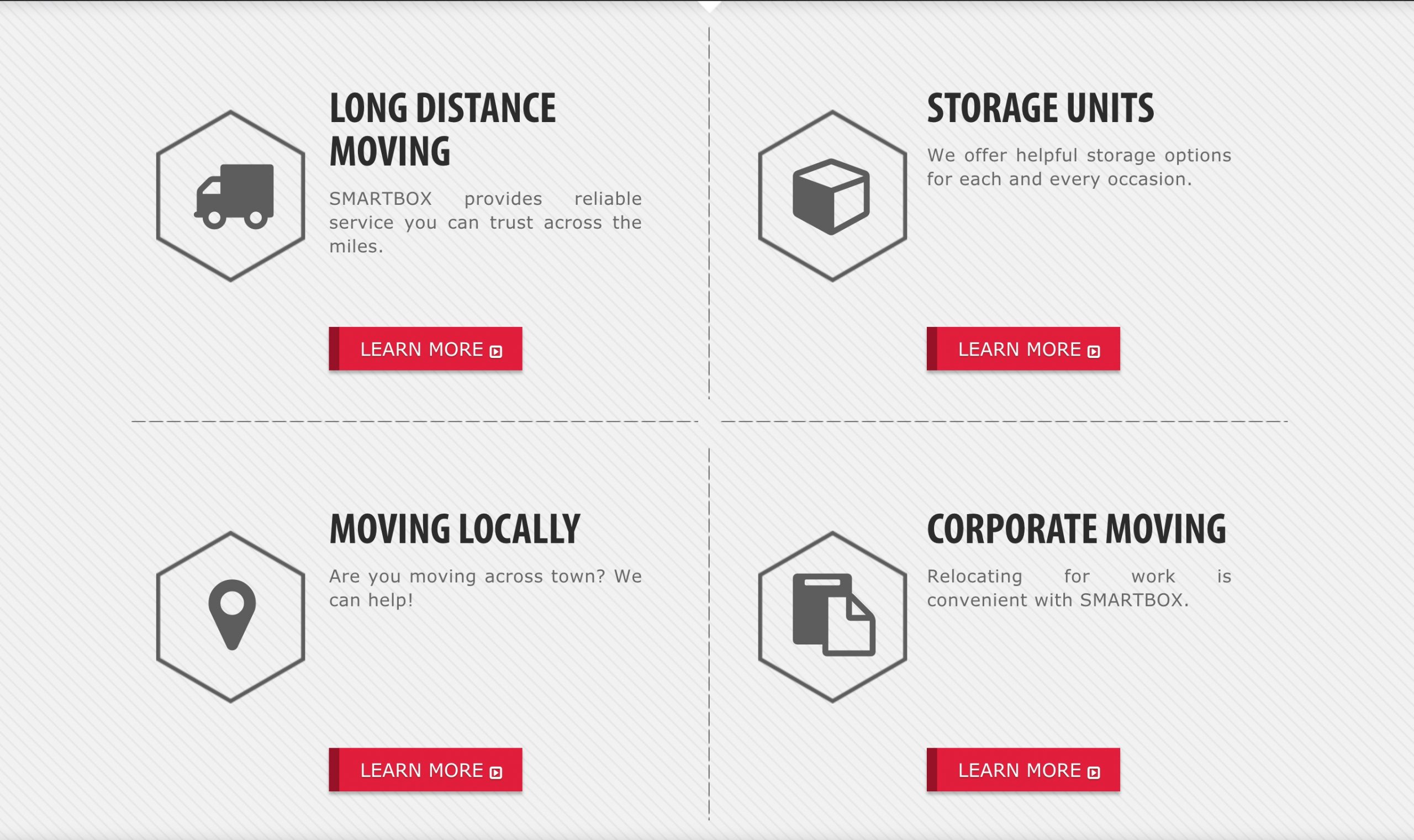 Cons
Every Smart box review admits that the cost of the service is slightly (or significantly) higher than other competitors offer. Both services: moving and container rental, are about 15% more expensive than analogies.
The long-distance moves expenses could be more liberal. The prices covering 100 miles start from around $1500, and the two thousand miles journey will be about twice more expensive. The last price seems fair enough, while the short-distance moving seems to be too expensive.
You will not get a free quote immediately if you have to move four or more rooms. The automatic instrument implies only up to three rooms. Again, a professional website must provide any visitor with average prices. The fact that you have to call a company to get a quote deserves to get into this list.
The costs depend on the season significantly.
Frequent complaints about poor customer service and their inability to solve problems in reviews make us mention this demerit.
The containers are of 8′ x 7′ x 5′ dimensions. They are not the smallest you can fi9nd, but not the biggest either. Consider that if you have to move bulky items.
The final and the most significant disadvantage of the company is its partial coverage. You cannot use the Smart move container service if you are not a resident of 23 states. Even if you are, you cannot move to the uncovered location. It is inconvenient and will make you look for more global, national companies.
What Services Does Smartbox Offer?
As it was mentioned before, a variety of Smartbox services is a strong side of this moving company. In fact, you can order everything that concerns moving and storing things:
A complete moving service with people helping you to fill in the container.
A DIY moving: you do everything by yourself, a company provides you with everything needed.
You can order a truck to drive it by yourself.
So-called "on-site" moving, which means moving a container between the company bases, is present as well.
You can rent Smartbox portable storage to leave it on your land or in a company's place.
Do not forget about special conditions that concern military service people and students.
The company highlights the storage service during the events like home sales.
Do not forget about insurance to cover the containers.
Conclusion: probably, you will find everything that you can imagine about moving and storing services.
How Much Does Smartbox Cost?
The prices are not a strong side of a company. They are relatively high compared to other competitors. As we said, it is difficult to learn the average price by yourself through a quote. Here is what we've managed to find:
The prices by home size are as follows: one room is $2110, two rooms are $2740, and three rooms are $4200. The difference between Smartbox and average market prices scales along with the increase of the room number. It is $10 more for one room and $1070 more for three rooms.
Mind that a company charges for the containers used. The company claims that one container can fit the things from a room under 600 sq. feet.
The last factor that affects the price for moving with Smartbox is distance. As we said, the prices start from $1500 (one room within 100 miles) and finish with $5000 (three rooms within 2000 miles).
The prices for the storage services vary from $49–$109 (in the company's warehouse) to $59–$159 (on your land) per month.

Is Smartbox a Good Mover?
After all, we cannot call Smartbox an exceptionally great moving company. Its advantages are situational. If you do not have many items to move and a pretty long distance to cover, Smartbox can be a convenient choice. If you are a student on your way to a dormitory, Smartbox can help you either. It will be helpful, and the new house is not ready yet. Leaving containers on your land is convenient.
However, if you are going to move for short distances, or your house has more than three rooms, the services go inconvenient and unprofitable. Plus, with Smartbox, the far from whole America is open. We have to hope for the soon coverage scaling.