Are you going to move to a new apartment in the local area or plan a move to a distant area? You should be ready to face unexpected, challenging situations. In most cases, the move is associated with stress, much time, and effort. If you want to make this process much easier, you should consider getting professional help from the All My Son Movers company. Check the All My Sons Moving & Storage review to find out how professionals can help you to avoid hassle during the move.
What to Know About All My Sons Moving & Storage?
You will find hundreds of positive All My Sons Moving reviews from grateful clients. The business has been run by one family for over 20 years. Four generations have been engaged in moving and storage services. You can rely on these guys as they have years of experience. Most clients admit that they like the atmosphere in the company, which makes a family-owned business different from a commercial enterprise. They help with moves no matter how far you go by sending trucks to the necessary location.
All My Sons Moving company has a team of professional movers who can deal with any challenge. The company stands out in this industry thanks to the variety of services they offer. Besides the help with the move, these guys can assist with the replacement of the furniture, furniture wrapping, etc. You need to call the company and find out how much it will cost you to use the services you need.
All My Sons Moving & Storage company has many positive testimonials on the web. The reputation of the company is flawless as they hire only experienced movers. Those who have already used the services from the All My Sons Moving company feel satisfied with the services as nothing has been damaged or lost. These guys can do all the jobs associated with the move according to the effective, well-organized plan of work.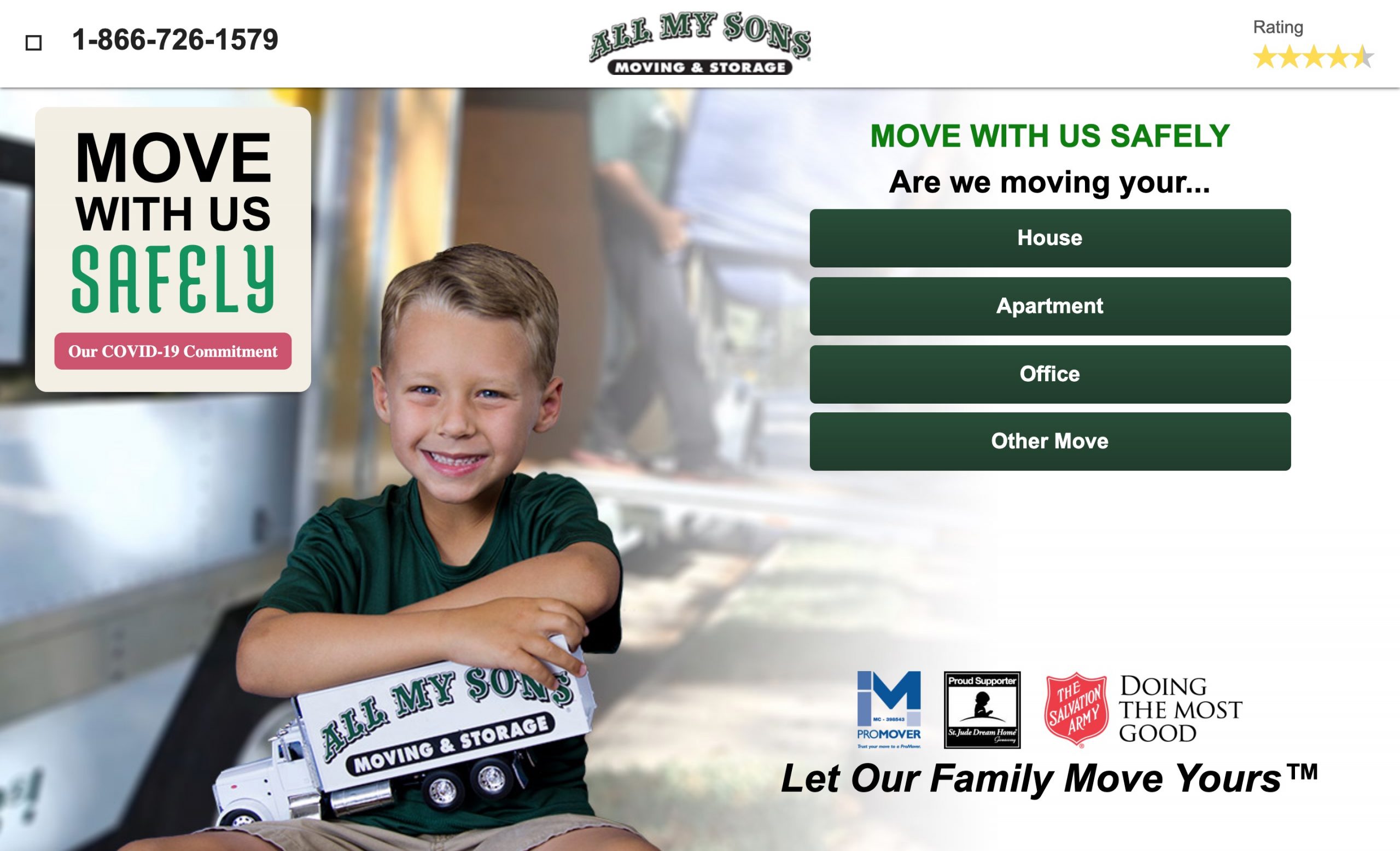 Pros and Cons of Hiring Professional All My Sons Movers
Don't you know whether you should choose the All My Sons company to help with your move? Find out whether it is a perfect choice for you, or there are disadvantages that may influence your final choice.
The company has many great features. You'll enjoy the following pros if you hire these guys.
A top-rated family-owned business with years of experience.
Many free services like the setup of furniture, wrapping, placement.
You can hire movers for a couple of days to do all the jobs.
A possibility to use optional temporary storage.
They have the license to move a piano.
 A possibility to order professional services for two days in a row.
What about cons?
According to All My Sons Movers reviews, many clients claim that their site isn't as informative as some other companies have.
There is not much information about the upfront pricing.
You won't find online quotes.
There is a limited number of storage units.
All My Sons Moving & Storage company has more advantages than disadvantages. According to the testimonials of their clients, they know how to solve problems quickly and effectively. Take into account that not all companies offer services within two days in a row. It's a tough experience to relocate within 500 miles. The team of All My Sons company will come to the rescue and help you to move within 24 hours. Not all companies can provide high-quality services.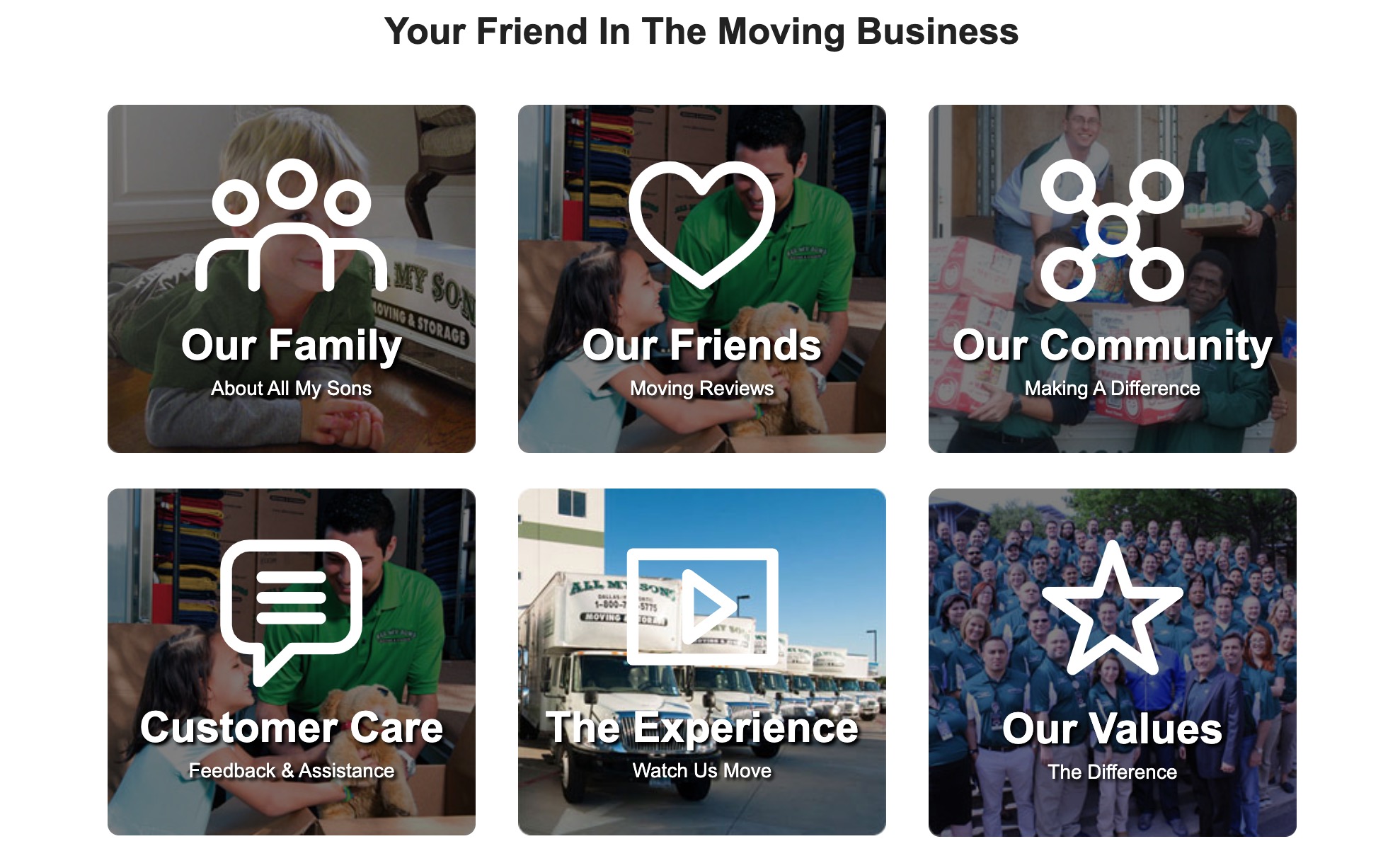 What Services Does All My Sons Moving & Storage Offer?
All Sons Moving company is famous for its wide selection of services. Their services cover help with
Both local (within the USA) and moves to remote areas (16 states and 60+ countries are covered);
Corporate and commercial moves;
Packing services;
Assembly and reassembly services;
The temporary storage of items until you can take them to your new house/office.
If you need to store some items until you do a repair in the apartment, you can benefit from the temporary storage option. Storage units are clean and safe. There is climate control that may be a must for certain items. Take into account that you don't have to pay an extra fee for loading and unloading the items. You can be sure that nothing will be lost. Movers from the All My Sons Moving & Storage company will take care of all the items by tagging and padding each of them. Before furniture items are stored, they are inventoried.
The only thing to keep in mind before you hire Allmysons moving company is that they don't have offices in all states. They can help you to go to all US states, however, they don't have a possibility to move within all of the states. Keep this in mind and check whether the company has a storage unit in the necessary location before you order their services.
One more thing to draw your attention to is that the company has effective customer support. If you have a question or need instant help with something, don't hesitate to contact friendly specialists from customer care. Just call them, and they will deal with any problems fast.
All My Sons Moving & Storage: How Cost-Effective Is It?
The problem is that you can't check the price online. Among the cons in most all my sons moving company reviews, it is mentioned that there are no online quotes. You need to call the company and tell them the details of the move. They will help you to estimate the cost of the services you need. The cost may vary depending on the destination, total distance, the weight of the furniture, and other items you want to move. You should take into account that the price may change if you add services spontaneously.
According to numerous all my sons moving & storage reviews, the company includes many services in the cost of the remote move. They are loading/unloading, the guaranteed protection of your belongings, hauling of full dressers, services of movers within the day you have ordered moving help, and the following day if the distance doesn't exceed 500 miles.
Pay attention to the fact that the protection of belongings (basic liability) is free here. Do you want to get the extended one to protect pieces of expensive furniture and other items from damage or loss? Then, you'll have to pay an additional fee. You are recommended to contact the representative of the company and get an estimate of the move you need. There are many factors that may influence the final cost. That's why it isn't possible to estimate the final cost accurately without knowing all the details. In any case, you can be sure that All My Sons Moving prices are flexible and competitive. You can choose the services on your own according to your budget for a move.

Is All My Sons Moving & Storage a Good Mover?
In conclusion of the All my sons moving review, it's possible to say that the company is a good solution for those who plan a move. They have been in the industry for a long and know all of the nuances of how to move your belongings and store them properly. By hiring experts, you can avoid the stress associated with the move. Moreover, My Sons Moving Company guarantees that all of your belongings will be safe. Compared to many other companies that help with the move only, All My Sons Moving company can help with all the jobs you may need.
Entrust your move to a professional company and forget about any kind of worries. They will move all pieces of furniture carefully, regardless of the weight, and load them into the truck. You even don't have to take clothes from the drawers – they will load them with all the contents. If you want to save time and avoid any hassle, you can order additional services. Experienced movers from the All My Sons Moving company will pack all valuable items so that they aren't damaged during the move. They have all the necessary packing supplies for the safe packing of the most valuable items, including fragile vases, frames, etc. You can rest while movers from the All My Son's Moving company are taking care of your belongings.
Remember that you can use a temporary All My Sons Storage service, if necessary. It's one of the advantages you'll enjoy if you hire dedicated movers from this company. According to All my sons moving & storage reviews, there is no such job associated with the move that these guys couldn't do perfectly. No doubts that it is a good choice for those who want to be sure that their move will pass smoothly. Save time and effort by getting professional help from the All My Sons Moving & Storage company.