Planning to move to another state or overseas? It may become a real hustle and bustle. However, with the assistance of a well-known North American Van Lines moving company, you may easily forget about any inconveniences. Check what this moving company may offer you, and learn the involved cost.
What to Know About North American Van Lines Moving Company?
If you hesitate about the relevance of this company, the North American Van Lines review may greatly facilitate your choice. North American Van Lines is one of the largest moving/trucking companies in the U.S. It was first established back in 1933 in Cleveland. The company currently services around 500 locations across the whole of North America. Why choose it over other alternatives?
Nowadays, North American Van Lines is known to be the first to use WorldTrac. This satellite technology allows their truck drivers to follow up with their current location. They send signals to the headquarters, and then reps inform clients about their shipment location. The company is also the first one to operate with crane vans which enhance large equipment handling. Speaking of their drivers, North American Van Lines moving company uses driving simulators to proceed with driver's education and practice. Beyond that, they are the first to deal with Alaska shipments.
Based on customer feedback involving this company, it has an average rating with TrustPilot. Mostly, the feedback deals with describing their courteous staff and prompt operations. Those who claim this company is bad speak of their exorbitant prices. Still, it may vary when you plan to move. Everything is calculated individually, and you should not blindly trust all the feedback.
All in all, this relocating company is a go-choice when you seek trustworthy and reliable parties.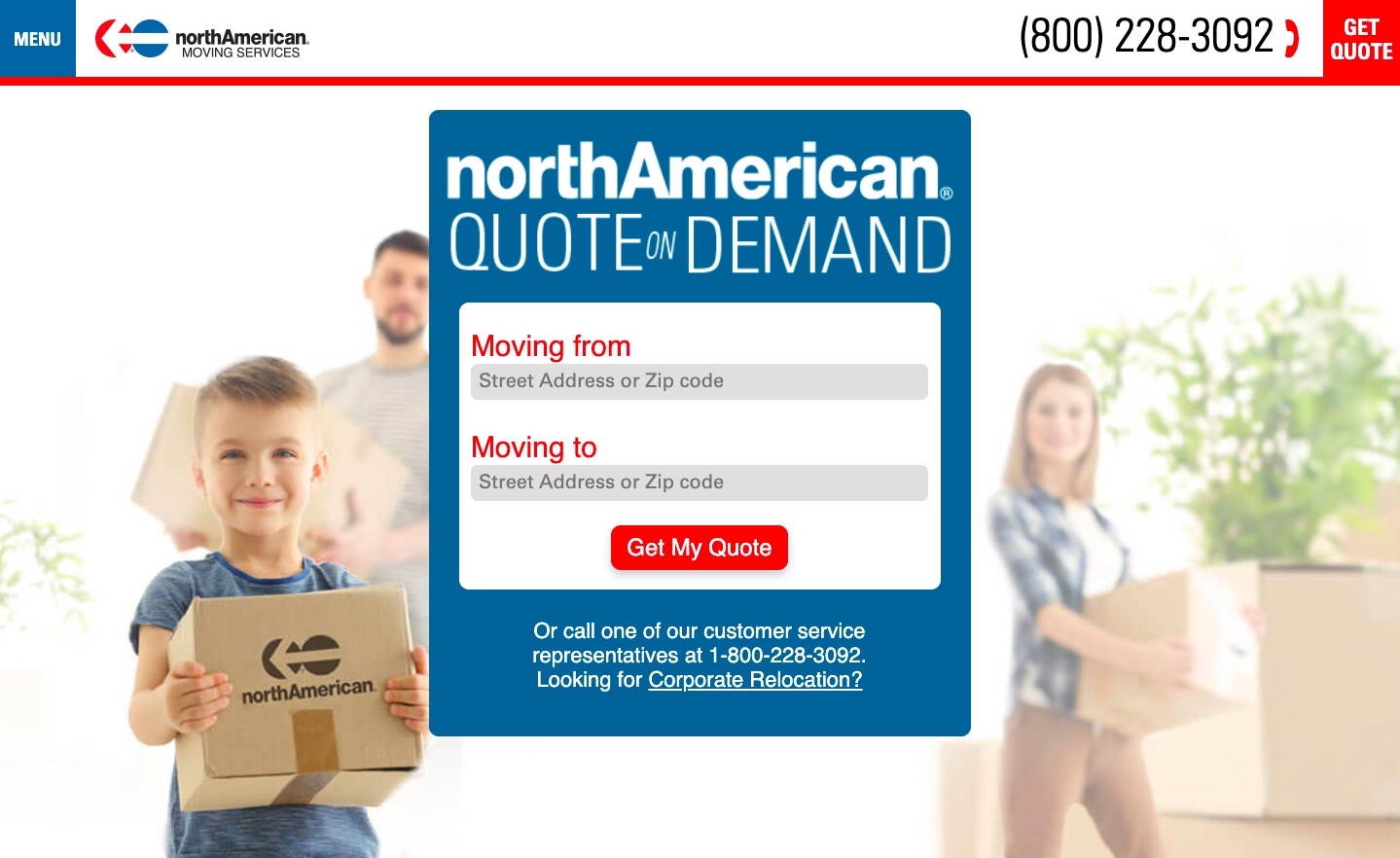 Pros and Cons of North American Van Lines Moving Company
Like other companies, this truck party is not deprived of advantages and drawbacks. Please, note, the following lists are based only on average feedback taken from current and ex-clients of the service. Therefore, you will get a clear picture of what to expect when choosing them. Now proceeding with the North American review of pros and cons.
Pros of North American Van Lines Moving Company:
They have all the necessary tools for the preparation of relocation. They include Mover checklist, packing calculator, packing tips, among others;
All workers are thoroughly checked on their well-being and knowledge of servicing during the pandemic;
This relocating company participates in charity;
They are trusted on the market since 1933;
They have many services available for relocating, including overseas move;
They use WorldTrac technology for their drivers to inform how much time is left to deliver the items or finish the move.
Cons of North American Van Lines Moving Company:
They involve third-party services for some relocating operations. They include gas appliances, artwork among others;
Storage is subject to limitations based on location;
Some local agents have poor feedback, especially when it comes to property damages.
Note, some North American Van Lines reviews do also claim that a company has a poor customer support team (it is truly negotiable since their reps are very courteous). It varies among local agents, and your experience might be the best possible in your life.
What Services Does North American Van Lines Moving Company Offer?
North American Moving and storage company has several services currently to offer. They are originally divided per 4, however, you may find more when contacting them directly.
This option is available both locally and internationally. You may request it and get assistance with all the steps involved. Each of your household stuff will be assigned a tag number during the move, so you may find it fast after. In case you have a piano, the North American Van Lines company offers professional services for its move as well.
Long-distance relocations
If you plan to move to the other corner of the U.S or even Canada, this process takes no more than 5 days only with them. North American Van Lines moving company will do its best to inform you about tips on saving money during the trip. They include tips on saving on hotels, fuel, as well as food.
International relocations
North American moving services reviews also cover their option of international relocating. It is currently available to most countries and ports. Prior to starting with international relocation, a company recommends preparing at least 2-3 months in advance.
Another service available with them is commercial relocation. It fits businesses of any size. Based on their statistics, they report 95% satisfaction among commercial parties who relied on them. This service usually involves furniture handling/management, disposal activities, among others.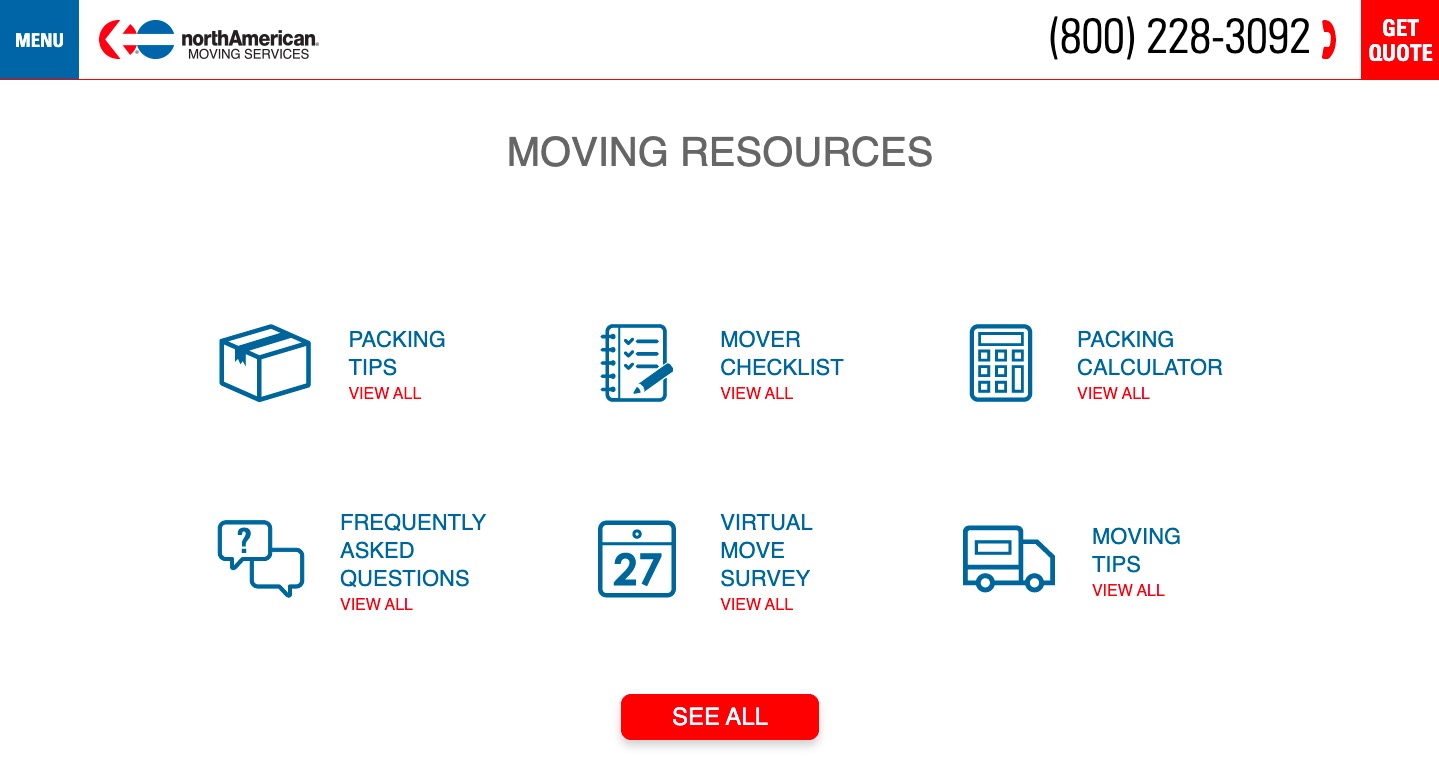 These are basic services available with North American Van Lines moving company. In addition, they have auxiliary services. They are storage which is an option for short-term storing of one's stuff at additional cost. A packing service, which involves professional packing of all the things at your household. Beyond that, their packing may involve special wrappings and boxes for mirrors, wardrobe among others. After that, if you require a vehicle move, they are glad to offer such delivery for most vehicles during one week of time.
If you look for the utmost quality of moving, you may request the following services as well:
Pads protection. It helps to protect your doors, walls from any possible damage while loading furniture;
Covers for carpets. Do not worry about workers' shoe dirt on your floor;
Inventory sheets. To help you know what to unbox first, all the items are labeled with numbers;
Unpacking help. Tired of packing yourself? Request help from North American Van Lines moving company;
Remove debris after relocating.
That's pretty it. If you want to learn more about services that may fit your particular relocation issues, contact them directly.
How Much Does North American Van Lines Moving Company Cost?
Based on many North American Movers reviews, this company is not considered a cheap option. At the same time, the prices correspond with the quality of services done. Check the approximate cost range when choosing this mover.
2-bedroom long-distance move with the company may cost around $5,000. This price is based on a 700-mile move.
Local moves with a 2-bedroom household may cost $600 only, however, you will pay for additional services. Packing, loading will be at additional cost.
To help you understand the prices of North American Van Lines even more, there is an example of one approximate estimation taken from the Web. The estimate is based on a Chicago to Atlanta move involving a 2-bedroom household. The move was planned during the high season – summer.
A small number of household items = up to $5,000
The average number of items = up to $5,600
Many items to move = starting from $5,700
What you may like the most with this relocating company are their calculators and quotes. Upon visiting the official website, you may find a quote request form on the home page. Indicate the states, your household type, your personal information, and get it. After that, you should call them to pick up your quote. Therefore, the North American Van Lines near me party is extremely convenient when it comes to estimations. Yes, you are most likely to find cheaper alternatives, however, such quality of work is hard to find.
To learn more about the cost involved in an international move with North American Van Lines, potential customers should learn directly with the company. Although they service hardly every country across the world, there might be some changes during the pandemic. Beyond that, the cost per international move ranges as well.

Is North American Van Lines Moving Company a Good Mover?
North American movers can be described as good mover. You may access a lot of services that fit both local, national, and overseas relocations. By using their website, you find many tools and tips to facilitate your preparation for your move. Furthermore, the company deeply cares about supporting you with additional advice on saving money. While on long-distance relocations, their agents provide you with information on how to save money on fuel or food.
Speaking of their prices, you may definitely find cheaper alternatives. However, you should understand that North American Van Lines moving company is a trusted party with a long-standing presence on the market. Their prices are fair. All in all, you may choose it whenever you seek comfort and fast relocation operations.