Nowadays the greater part of people prefers to relocate with the help of professional movers. The assortment of feasible shipping companies is exciting. It's possible to pick up a firm that fully corresponds to your needs and desires.
One of the most popular and outstanding relocation companies in the USA is JK Moving company. The company has a number of significant peculiarities you should know about. This JK Moving Services review aims at depicting the major pluses and minuses of the platform, as well as at explaining the philosophy of the platform. Make your relocation as smooth and convenient as possible with skillful JK movers. 
What to Know about JK Moving Services?
The history of the JK company started about 40 years ago. It means the managers and brokers are experienced and skillful enough to cope with the relocation of any level of complexity. All the workers are committed to catering to their customers to the highest level of maintenance and support. Although JK moving services reviews underline that prices are not the cheapest, you can't but appreciate the top-quality relocation you get.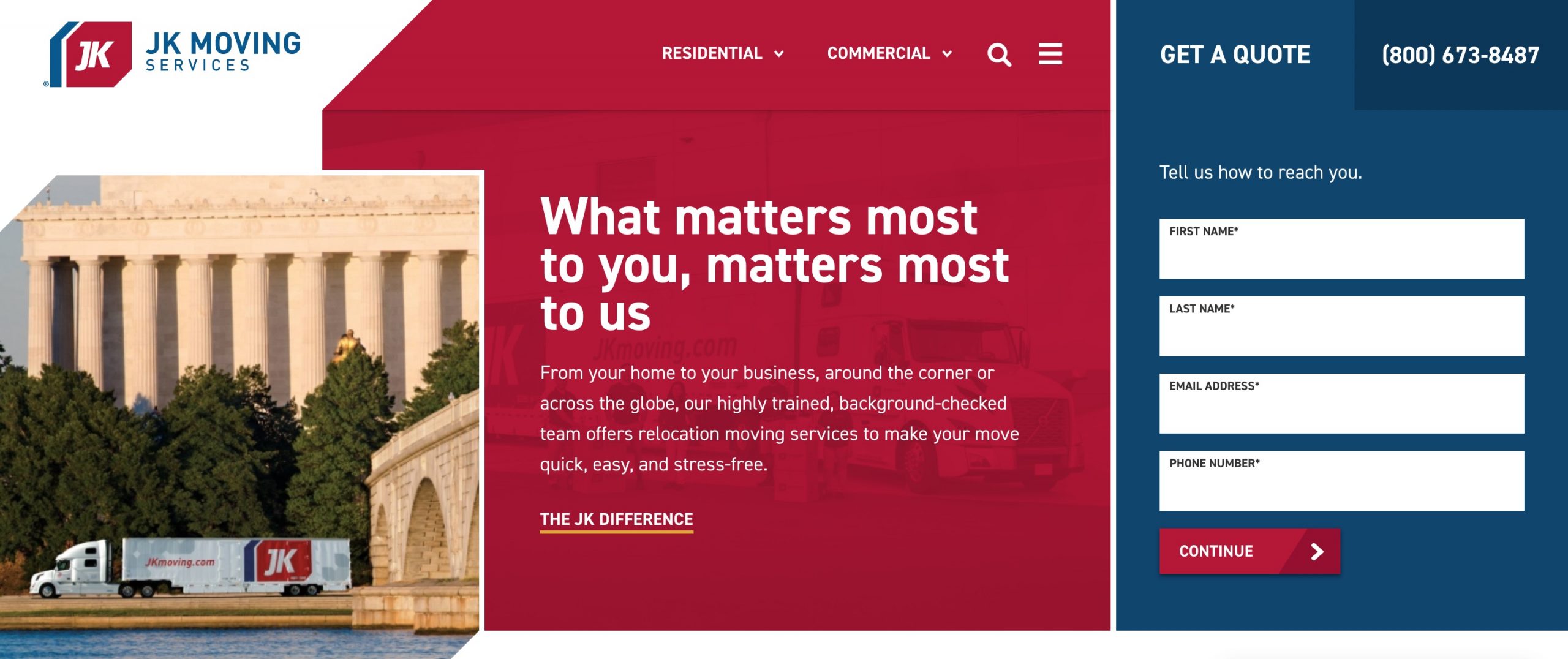 Pros and Cons of JK Moving Services
What we like about JK:
JK is absolutely technically friendly.
The modern world is impossible without innovative technologies. You are hardly to find a company that doesn't benefit from the use of automated software and applications. The firm keeps pace with the time. You are to experience awesome AI-driven visual surveys powered by Yembo. JK movers reviews state that clients can't but appreciate user-friendly and helpful mobile applications. With its help, it's possible to control your relocation, stay in touch with movers, and get acquainted with feasible options;
You are to experience a customized set of options.
JK makes everything possible (and sometimes even impossible) to meet the needs and expectations of their customers. The managers offer solutions that fit exactly your case.
Experienced JK Moving Services coordinators are able to solve the greater part of difficulties and challenges you face.
It's worth highlighting that the firm is not a broker. Copious operations are completed with the help of partners. Yet, you get a competent coordinator. This is an expert who organizes and coordinates your order from start to finish. 
What we don't like about JK 
Prices are rather expensive.
The competition is really tough. These days there are lots of available firms that it's not easy to make a correct choice. At the same time, it's not a good idea to consider only the financial issue; 
Local offices are available only in a limited area.
JK is an ideal variant for those who want to relocate to another state or even country. Yet, the experts of the company do not deal with short-distance moves with the exception of a couple of states;
Many services are provided by the partners.
You have to realize that JK Moving Services do not possess copious vehicles to cope with hundreds of orders. That's why the firm cooperates with carriers from all over the globe. You don't need to look for the needed truck. The experts of the platform do it for you. Yet, sometimes it may be inconvenient for customers. 
What Services Do JK Moving Services Offer?
JK Moving Services is a perfect shipping solution for a wide range of people. The well-trained movers allow you to savor stress-free relocation without effort. Orders are completed in the shortest possible time. If something goes wrong, you can always count on an excellent customer support line. It functions 24/7. Efficient managers are ready to solve all your problems in no time. 
JK Moving reviews underline that you never experience difficulties with proper document management. One of the options provided by JK Moving Services is assistance in preparing all the necessary papers. The experts gather all the needed forms and permissions to make your relocation trouble-free. The next crucial moment is that the firm is licensed. It means all the movements and transportations are legal.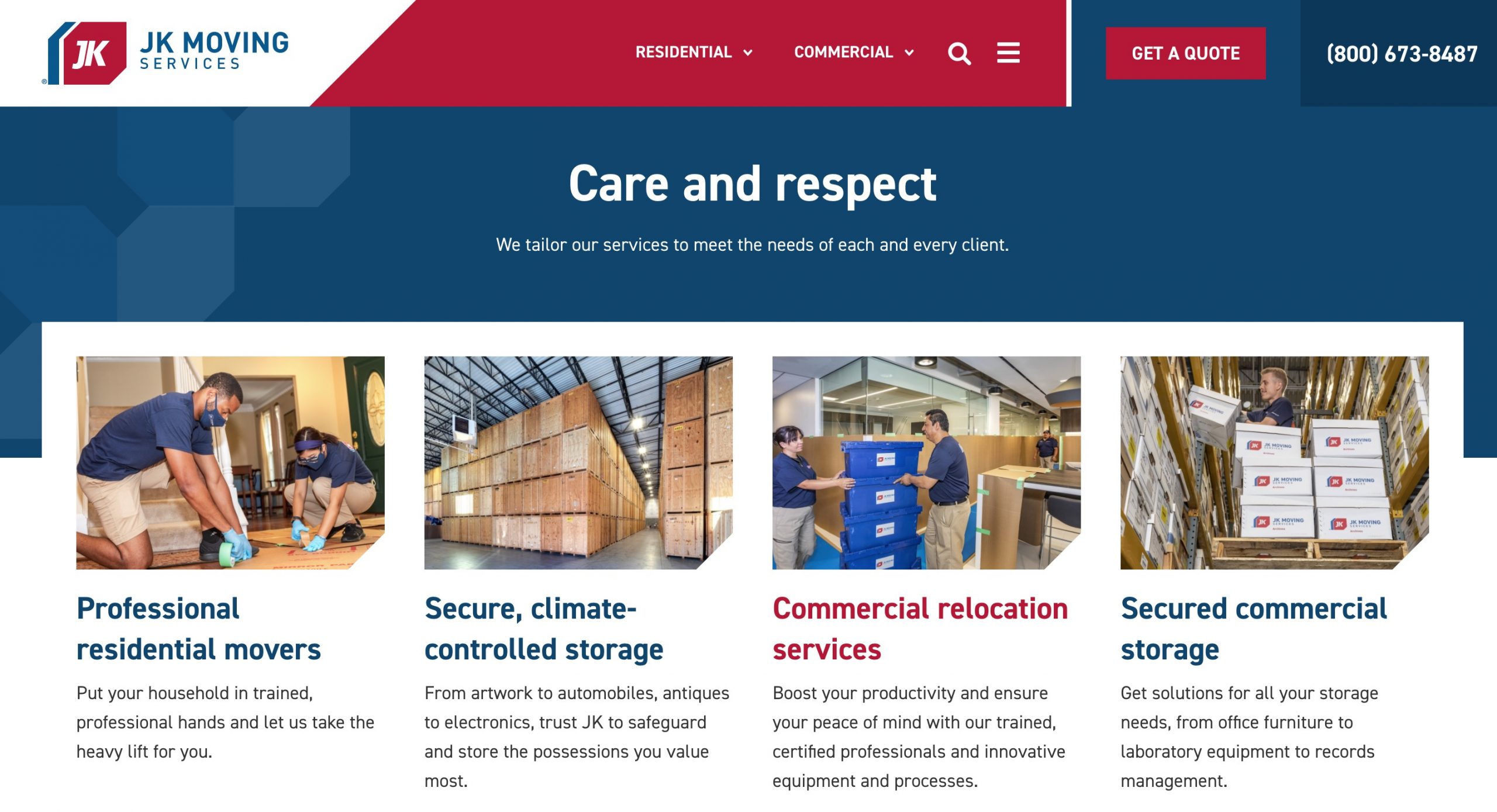 Residential JK Moving Services
You can hardly find a person who has never experienced relocation. The firm allows you to make this process as convenient as possible. The experts pick up the most appropriate car to transport your belongings fast and easily. It's also possible to hire rental trucks or containers if the firm doesn't possess the needed trailer. JK Moving Services also offer packing options. Don't ignore packing while it helps to prevent items from being damaged.
One of the greatest advantages of JK Moving Services is that the company deals with government moves. It means the movers know for sure how to work with the most demanding clients. 
It's worth highlighting that you may explore the advantages of J&K storage when changing your place of living. Sometimes it happens that people can't start using a new apartment instantly. And if the humans may spend a couple of days at friends or in the hotel, it's necessary to find a proper place for temporarily keeping your belongings. With the help of the JK storage option, you can solve this problem easily. 
Commercial JK Moving Services
JK Moving Services is ready to relocate your office. The experts are to plan the whole process and provide you with the best solutions. They know how to deal with gadgets and office equipment. You don't need to worry that your belongings will be damaged or lost while loading or packing.
Storage
JKMoving and storage are a perfect combination of speed, quality, and convenience. The company possesses its own storage space, as well as deals with rental variations. If you are interested in JK moving and storage, specialists pick up the most suitable solution to meet your needs. Your items won't be damaged or spoiled in the warehouses. All spaces have perfect conditions for storing versatile goods. 
How Much Do JK Moving Services Cost?
To be fair, it should be underlined that JK Moving Services are more expensive than their counterparts. It's true for both local and long-distance moves. You should be ready to pay about $2,500 for local relocation while for interstate relocation this sum is significantly large. You are to pay about $4,500 for a standard order. 
The price depends on several factors. The major ones of them are the following:
The distance;

The volume of items you have to transfer. It's clear that shipping a two-bedroom apartment is cheaper than office relocation;

The peculiarities of the items that should be relocated. The thing is that it's more difficult to move office equipment than standard home furniture, for instance. Moreover, JK Moving Services also deal with government moves. They require special handling. The same is true about pieces of art;

Deadlines. The sooner you need to complete the relocation, the more you are going to pay.
It's clear that it's better to place your order in advance. It allows you to save money and grab the best movers.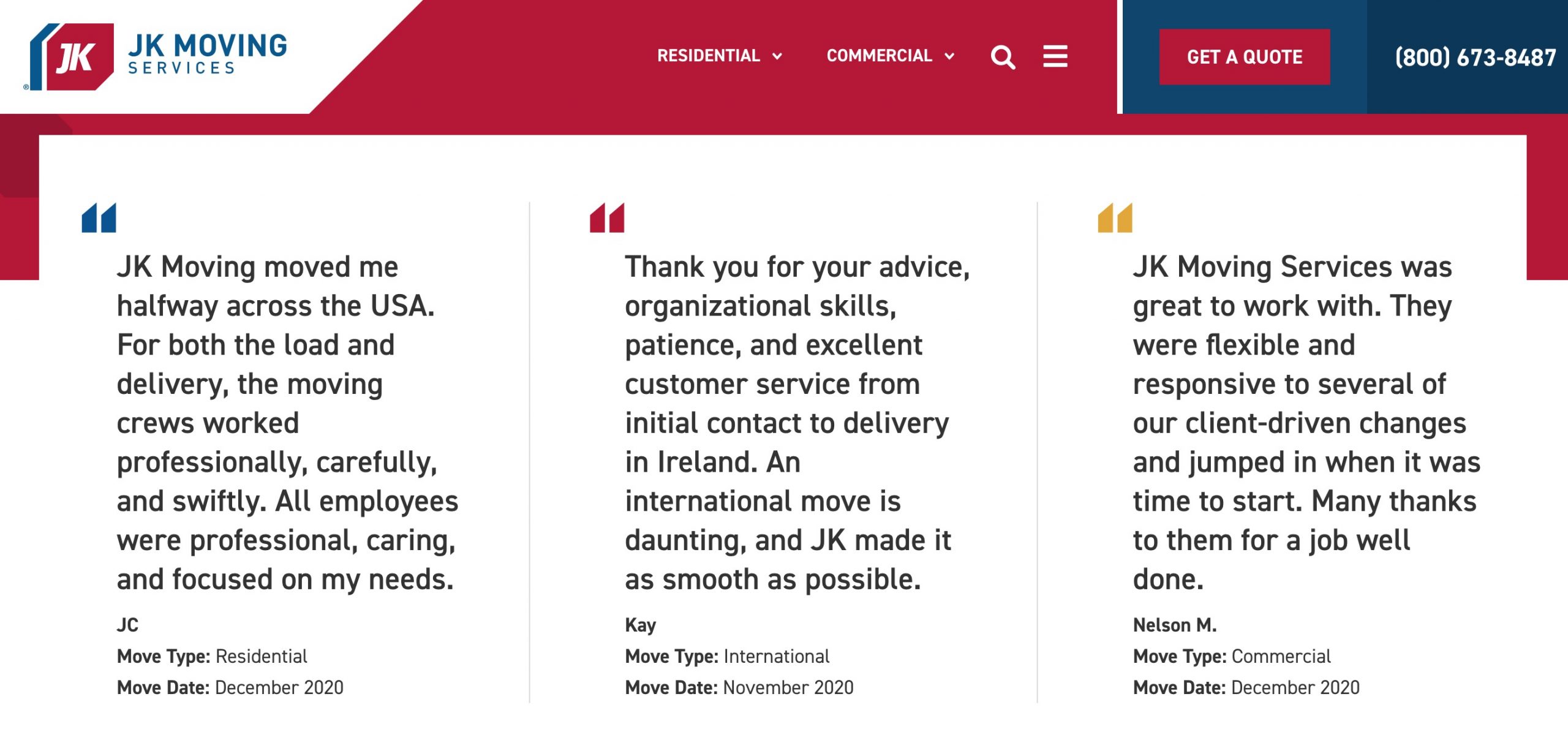 Are JK Moving Services a Good Mover?
JK Moving Services is an indisputable leader when it comes to long-distance and international relocation. The experts of the firm are able to cope with copious red-tape difficulties. You are to experience smooth and stress-free relocation. At the same type, if you are interested in local relocation, the firm may be helpful only for the residents of Maryland, Virginia, and Washington, DC.
To sum it up, it's necessary to mention that JK Moving Services is one of the winning relocation companies on the modern market. Although the company has a couple of disadvantages, there are much more pluses you can't but appreciate. Every time you place a quote, you may be sure your order will be carried out by competent movers with an excellent reputation.