American Van Lines is a widely known company focusing on long-distance moves and providing a range of the so-called 'relocation packages' that meet different needs of customers. It is a company started and run by a family and locating its main headquarters in Pompano Beach, which is in Florida. Van Lines have branches all around the United States but is most frequently associated with Florida, Texas, and North Carolina. Despite the firm not being included in the biggest moving companies in the US, it remains one of the most frequent picks of Americans.
What to Know About American Van Lines Moving Company
When it comes to large-scale relocations from state to state or international moves, American van lines moving company takes all the business with luggage packaging, vehicle moving, furniture relocation, online tracking, and much more. The service is also an experienced arranger of business and corporate relocations requiring many resources for moving furniture, packing and unpacking belongings of different types, allowing to you focus on what is really important right now, such as finishing to sign documentation.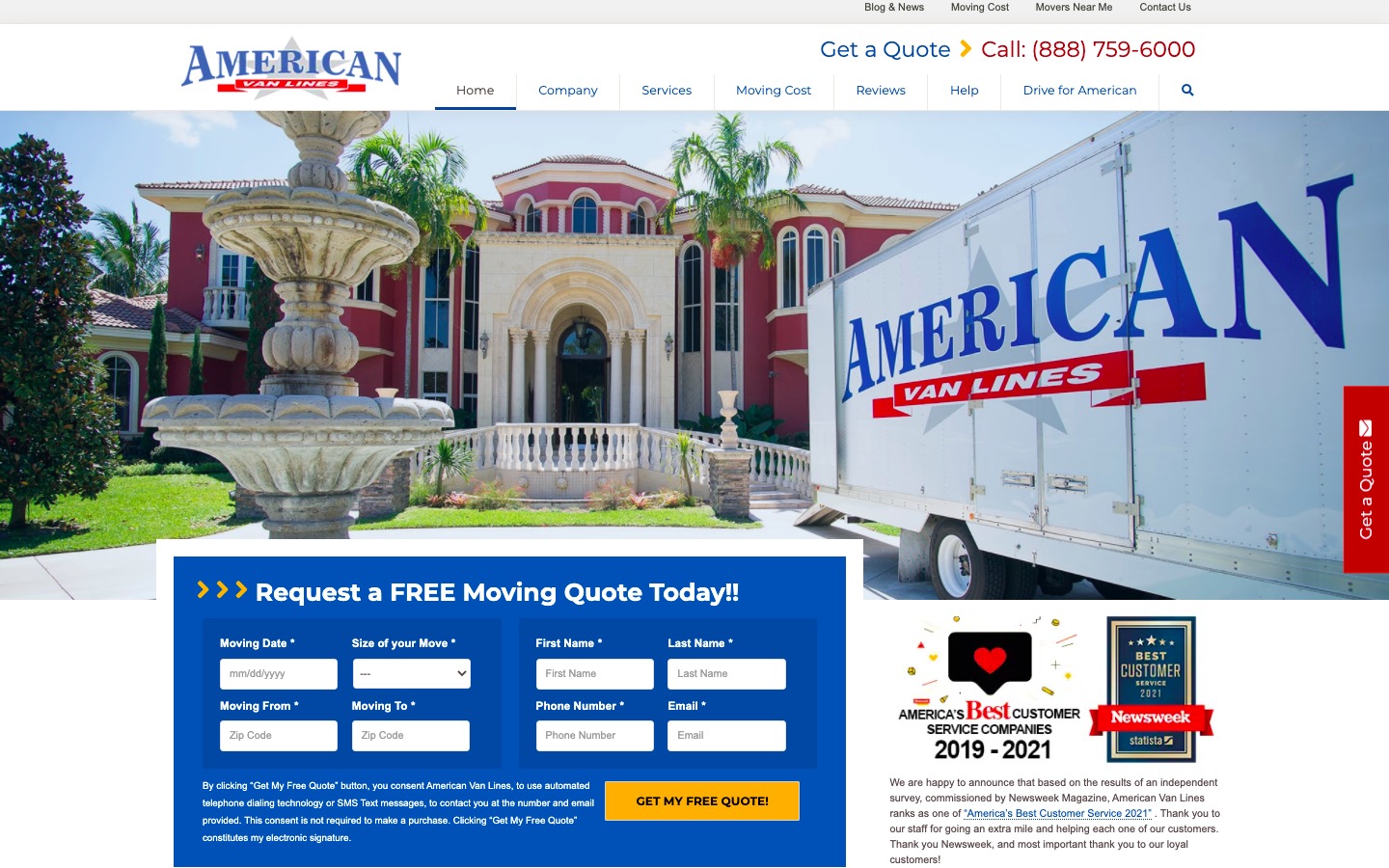 Pros and Cons of American Van Lines Moving Company
The mover has earned the reputation of a company able to handle all kinds of truck moves plus give a high level of customer support and personalization. Still, like every popular service firm, American van lines have got many opinions around it. One American van lines review might say it's reliable, another might claim the lack of attentive care. But here, in this paragraph, we will discover the truth to know what are its exact advantages and disadvantages.
What the Company Is Great At Key Advantages of American Van Lines
Here is what clients value in American van lines most of all and what often makes them choose the company again.
American van lines cost are often a topic for online discussion. Some people do not understand how good service can cost cheaper than many of its rivals' services and others, who tried it, try to prove the great quality and reasonable prices by facts. To be more visual, we'll give an example. An average home with 3 bedrooms and around 2490 kg of luggage weight is predicted to cost nearly $7,000 in the case when it is moving, for instance, from Phoenix to Los Angeles. The price for all the packing up is included.
Reliability in specific moves.
This function is counted by American van lines customers as a flawless one. Moving pieces of art and whole galleries, transporting unique musical instruments that are worth hundreds of thousands of dollars and make a part of cultural heritage, handling other fragile items – if you need such services to be carried out responsibly and attentively, this company will not let you down. Here also belongs painless auto shipping.
Good rating at BBB (Better Business Bureau).
The company has acquired certification from the American Moving and Storage Association, which is not so easy to get. Having in total about 18 complaints, this is almost a record in the world of American movers. BBB has put a solid 4 to American van lines, which is a fully deserved rate.
All American van lines give you a climate control storage option.
This is not the feature everybody talks about, but once you cross a particular climate zone, you should think of how the property that requires delicate storage will be handled. In case you plan to settle down something after arrival before unpacking luggage, climate control storage can save you a lot of money and help to prolong the life of valuable family items and pieces of art.
Working Monday to Sunday.
This family firm is so dedicated to its business that on weekends you receive as fast and good services as you would do on a working day. There is no difference between deliveries made on Monday and those planned for the period people call days off. In over 2000 positive reviews, customers evaluate its work as 'super dedicated and committed'.
Drawbacks and Things to Be Worked At
Local moves are very limited.
Interstate or international relocations leave no doubt that the company is a huge success. However, if you are lucky to live in a state other than South Florida, North Carolina, or the Dallas-Fort Worth Metroplex area, the move is not possible. What is more, places like Wyoming or South and North Dakota are still problematic to reach for them.
Using the help of third parties.
If your luggage includes gas appliances, medical devices, and some artwork, there could be too much fuss about making it transported legally to the other state. This also means more papers that a client has no time to read but needs to sign.
What Services Does American Van Lines Moving Company Offer?
In terms of a variety of services, American van lines review comments often praise the company for making available the following.
International moves.
Fine art items moving.
Military and large-scale relocation.
Vehicle shipping.
Secure climate control storage for specific items.
Reliable insurance and coverage.
Tracking the moves online.
Both interstate and local moves.
Crating, packing, and loading service.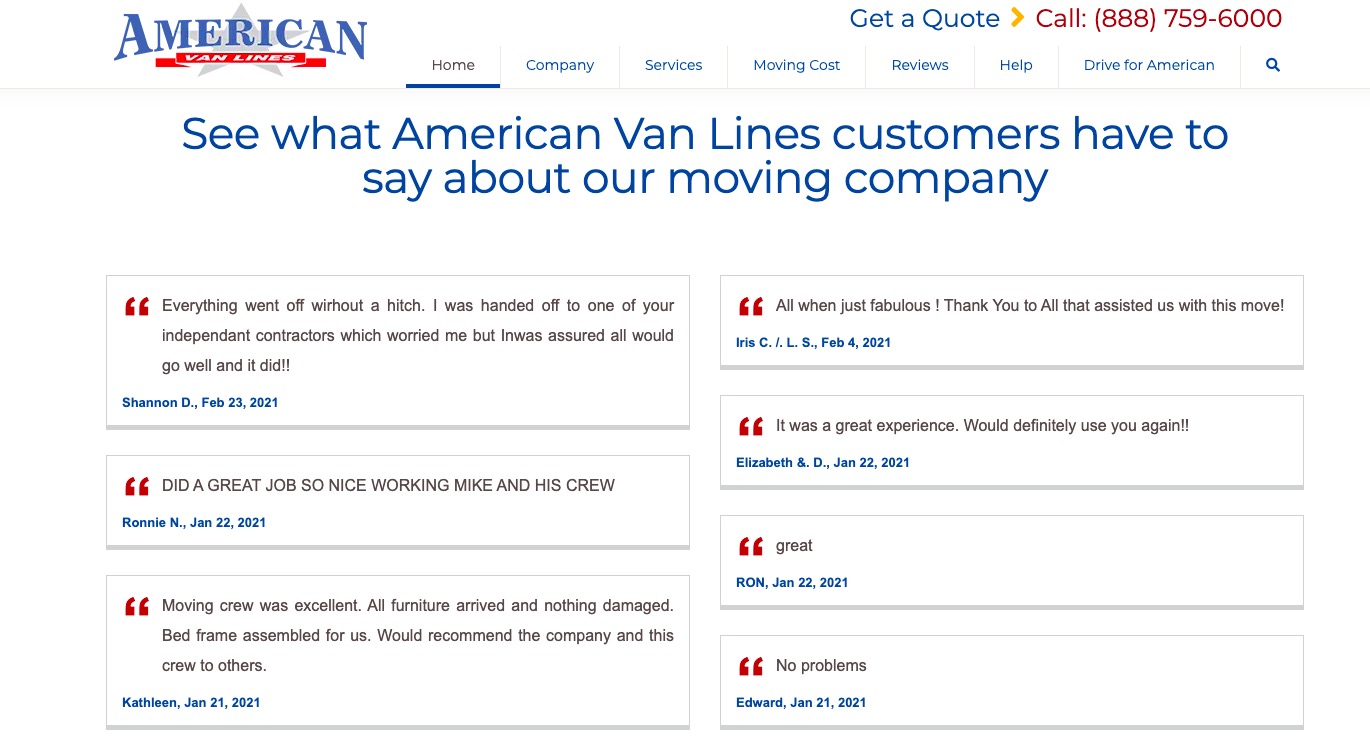 How Much Does American Van Line Moving Company Cost?
The cost of services provided by American van lines will depend on how much you need to take with you and how far you are going to travel. Now, let us delve into the smaller details of what the price usually consists of.
Factor #1. The Distance Between the Place You Live and the Destination.
Most American van lines reviews claim the price for its services is relatively low compared to other movers. While the company does not disclose all its prices on the official website, you can find out all the details from your agent after leaving your data in the form.
Factor #2. The Volume of Your Possessions.
In case if you prepare all the items for moving and do the packing yourself, they give you a significant discount. Although many people are limited in packing up all the stuff, in practically all American van lines reviews, customers claim that it is possible to get partial packaging by the company and still get a discount. If you choose the all-inclusive option, the whole moving process will become even easier. Expert moving staff will pack and unpack your belongings and even load and assemble pieces of furniture after your arrival.
Factor #3. Type of Insurance.
To guarantee a refund or compensation in case some part of your property gets damaged during the move, American van lines offer two types of insurance. And it is logical for you to choose it.
Since while moving out, you place everything at stake, protecting the property is a wise thing to decide on. This concerns both valuable possessions such as antique pieces of furniture, valuable accessories, items that carry a personal value for your family, etc. During the process of moving, van lines are responsible for these goods. You can choose from two options: full value protection and released value protection.
Full value protection presupposes that the mover will replace the lost or damaged item or pay for its repairment if it is possible. In this case, you need to include the items of special value in the shipping documentation, listing them by names like 'jewelry', 'antiques', etc. Released value protection is a simpler plan given for free. This insurance will only compensate for a pound of luggage's weight.
Is American Van Lines a Good Mover?
As an outline, we highly recommend the service if you need to move long-distance with a lot of property and would like full coverage. Big families, businesses, and corporations will benefit from this cooperation will mark American Van Lines as their favorite. Anyway, even if you don't move to a radically new place and have no specific requirements for storing and shipping, you won't find a better service for such a democratic cost.