Do you plan a long-distance move? Everyone would agree that packing, loading, and moving take too much time and effort. Moving can be very stressful if you take care of everything on your own. It is much easier to move your household or business if you have a dependable helper. There are many companies that offer help with moving, packing, and other services. But not all of them have the best price-quality ratio. If you want to move with maximum comfort and pay a reasonable price for your move, pay attention to Allied Van Lines company. Check the detailed Allied Van Lines review to be sure that it's the smartest solution for you.
What to Know about Allied Moving Companies?
Allied Van Lines Moving company has been working in the logistics industry for over 80 years. The company was founded in 1928. Since then up to now, the company has been improving its moving services. Nowadays, the company has expanded the range of services significantly. It is one of the largest companies not only in the USA but also worldwide. Is there any feature that makes Allied Van Lines different from other movers? The company has its own trucks and works without third-parties.
Whether you need just a little help with the move or you want to get the full package of services, hire Allied packers and movers. According to Allied moving reviews, these guys have a large experience in providing help with the moves, including packing, disassembly, reassembly, and other services. The company offers not only local moving services but also national and international services.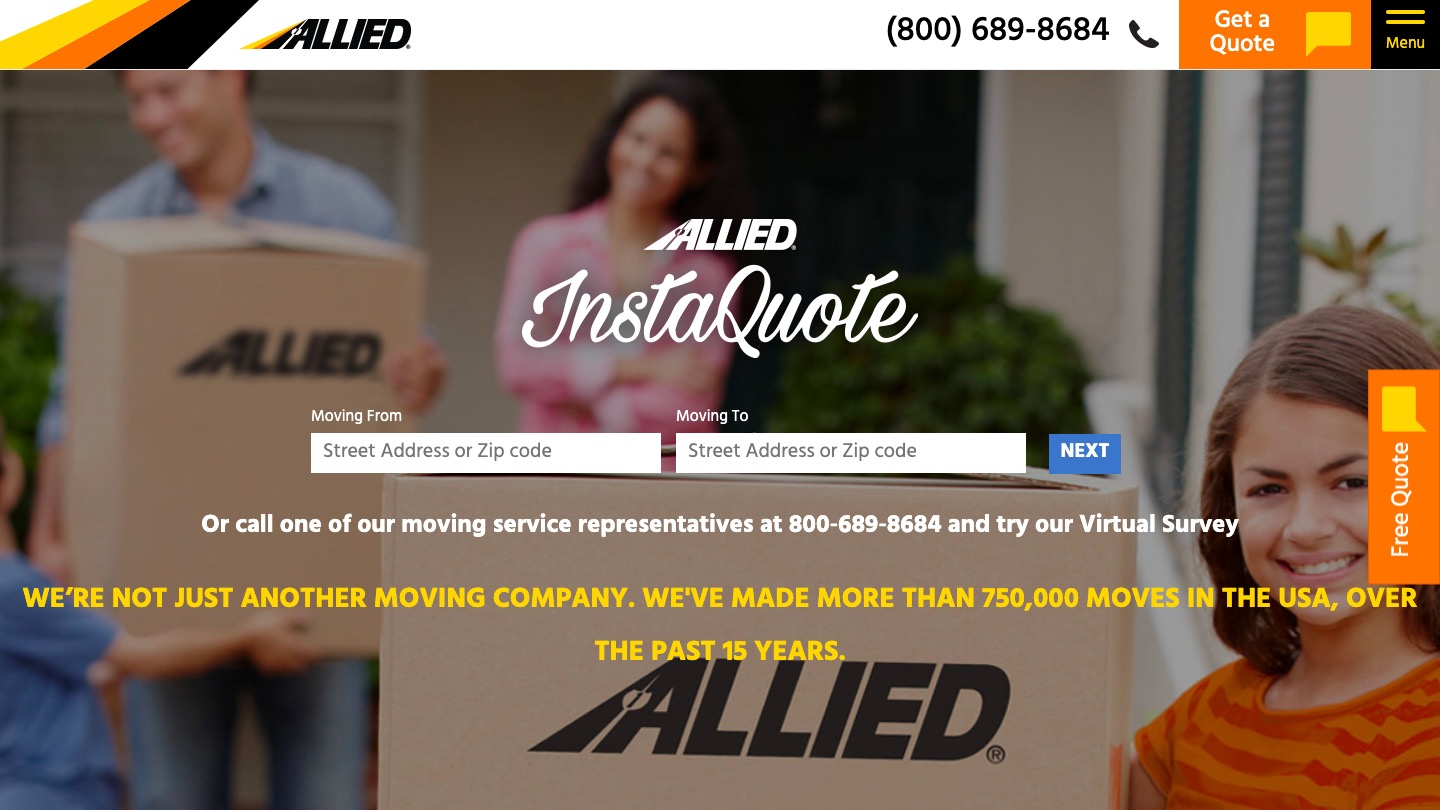 Pros and Cons of Allied Van Lines Company
"Is Allied Van Lines company a good choice for me?" – Let's have a closer look at the advantages and disadvantages of the company. If you choose Allied Van Lines as your helper during the move, you will enjoy the following benefits:
A full range of moving services. One of the obvious pros is the widest range of the services you may need during the move. The company offers an all-inclusive moving service if you need it. Do you prefer the DIY option and want to pay a lower price? It isn't a problem either. An advantage of Allied Van Lines is that everyone can choose the most suitable option on his/her own.
An opportunity to select the options you need. Just choose what kind of help you want to get and don't pay for the services you don't need. The company offers to customize your move that is definitely a big plus. It means that everyone can use the company's services even if being on a tight budget.
The Basic Liability Protection. The company is the one you can entrust your furniture and any fragile things. The good news is that Allied Van Lines takes responsibility for all the items they move locally, nationally, or internationally. The company offers the Basic Liability Protection for free. Do you need extra care? There is special coverage for the additional cost for such cases. If you need to move some valuable items and protect them from damage for 100%, choose this option. The company will replace or repair the item in case of emergencies like a sudden loss or damage.
Online tracking services. Forget about any worries when you use the services of the Allied Van Lines moving company. You can check where your possessions are where you are using your smartphone. The only thing you need to have is an Internet connection. Find out where your items are at the moment and when they will arrive at the destination. All the necessary information is available online. This option is extremely important for those who move internationally. A possibility to track your belongings any time is very useful as it helps to plan your moving schedule and arrange all the details.
As you can see, there are many pros of choosing Allied Van Lines company as your mover. What about cons? Are there any disadvantages? One of the features that can be considered a drawback by someone is the absence of free storage space. If you can't move immediately and need several days to store your possessions somewhere, ask Allied Van Lines to arrange storage for you. But be ready to pay for this extra service.
According to some of the Allied moving company reviews, some customers admit that customer support isn't always effective. In fact, it depends on your local agent. All of the moving companies Allied Van Lines cooperates with meet the best quality standards. But when it comes to the work of customer care specialists, there may be variations. That's why you are recommended to devote several minutes to check what customers in your area say about the customer service.

What Services Does Allied Van Lines Company Offer?
Compared to many other moving companies, Allied Van Lines offers all possible services for any type of move. Check what kind of services you can order. Besides, Allied relocation services LLC, you can ask for help with
Packing/unpacking;
Removal of debris;
Loading/unloading;
Disassembly of furniture;
Move of your vehicles, including boats and cars;
Tracking of your shipments;
Allied moving and storage of your possessions (for an extra fee).
It isn't the full list of the services the company offers. It is up to you to decide whether you need a full service, little help with the moving, or you are going to do the major part of moving on your own. The full-service package of service means you will do nothing besides calling your local Allied Van Lines agent.
If you need little help, you'll get such services as careful packing to protect all your items from unwanted scratches, loading/unloading, but won't get help with the debris removal and unpacking, disconnection/reconnection of appliances, and some other services that are available for additional Allied moving cost.
How Much Does Allied Van Lines Company Cost?
One of the benefits of the company is flexible pricing. You can afford to get professional help with the move, even if you are on a tight budget. Tell the mover what options you need and pay the bill that will include the necessary options only. There are no hidden fees. After you select the option that suits your current budget best, you'll find out how much it will cost you to use the services of the moving company. Do you want to save as much as possible? Then, according to numerous Allied movers reviews, the DIY option is exactly what you need.
The cost of the moving services depends on several factors. They are such as the volume of your possessions, the distance you move at, and the time needed for loading/unloading. Take into account that the company takes money for the hour of the drive even if you reach the destination in 15 minutes or so. The best way to make it clear how much it will cost you to move is to consult your assistant.
Is Allied Van Lines a Good Mover?
Allied Van Lines is definitely a great choice for those who plan long-distance moves. As for the short-distance moves, they aren't always cost-effective because of the truck driving time that is not less than one hour in the bill. So, it can be a bit expensive for those who plan to move to a new house in the local area. If to talk about national and international moves, the company is a great choice without any doubts. The company doesn't offer many free perks, but it still has a number of options to choose from. Moving can be hassle-free if you order Allied Van Lines services.
This mover has a high rating and a large experience that makes it trustworthy. You can feel free of worries when choosing Allied Van Lines. They will provide you with top-quality services that are customized for you personally. It is worth mentioning that not many movers can help you with the transportation of large vehicles. It is ok for Allied Van Lines company. You shouldn't worry that fragile boxes may be damaged during the move. The company will take care of fragile items as they take responsibility for each of your possessions.
Some may say that this moving company isn't the cheapest one in today's market, but it is worth your money. You can forget about all the problems involved in the move. The mover's team will take care of your move to another house while you are having a rest and tracking your possessions online. Allied Van Lines is an expert in the logistics industry that improves the quality of moving services regularly. Now, you can enjoy many innovative services developed for your maximum comfort.
You don't have to do the heavy lifting on your own. Just hire professional movers and packers and make any type of move as easy as ABC. You can be sure that the move will be smooth – the mover has been called the best one in the industry for several years in a row. The company has helped hundreds of businesses and households to move successfully. Remember that by choosing this mover, you will enjoy fully customized service and will be offered unique solutions for your personal needs. Check Allied van lines reviews from the customers in your local area to make sure that you have made the right choice.