When looking for moving companies, you expect to find specialists with experience, various services, and adequate cost. According to Colonial Van Lines reviews, the company offers just that. This is a family-owned business with over 50 years of experience and around 12,000 moves a year.
Colonial moving & storage services are available in the continental part of the US. If you live in Alaska or Hawaii, consider looking for another company. But if you're in one of the 48 continental states, Colonial Van Lines is a decent service for you.
What to Know About Colonial Van Lines
Colonial Van Lines has its own mobile app and offers customizable services. These features give more freedom to customers. As every client has a different case, it's good to have options for moving and storage.
The company is considered a broker, even though there's no information about this on the website. According to the US Department of Transportation, Colonial Van Lines doesn't have any employed drivers. So, when you order services, they connect you to a partner driver. This is a working practice, but according to some Colonial moving reviews, there are third parties that are disorganized and don't arrive on schedule.
These situations aren't frequent, though. The experience and service options of the company cover all the small inconveniences.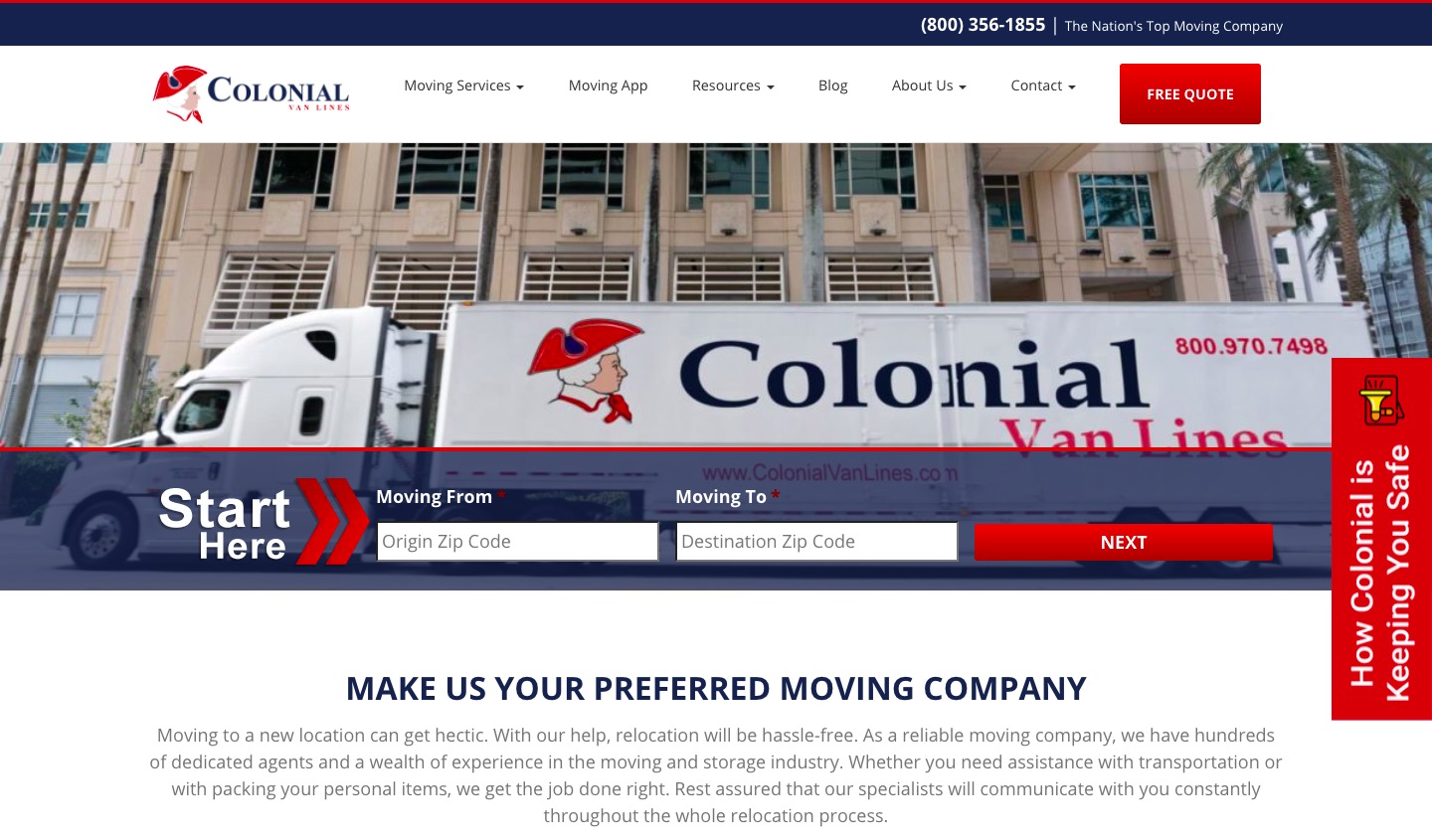 Pros and Cons of the Colonial Moving Company
Colonial Van Lines moving company has multiple benefits for its customers:
The Colonial moving and storage services are available in 48 states, which allows you to move from one state to another with ease. You don't need to contact two companies, Colonial movers will resolve everything alone;
There's a mobile app called Colonial Can Lines In-Home Moving Service App. Download it in one click and manage your orders right from the phone;
The contractors partnering with the company are licensed, well-trained, and under strong insurance;
All commercial services are taken care of by a specialist in the location where you have to move, which is very convenient;
In case of a misunderstanding or another problem, the Resolution Department is ready to find a solution and address the issue properly and professionally.
Colonial Van Lines reviews also state several disadvantages. Some may be resolved in the future:
The company doesn't offer any of their services to other countries;
The clients that get a "non-binding" estimate may be surprised by additional fees that may increase the final payment considerably;
Some clients complain that the contractors they were working with aren't dependable and lass professionalism;
There's a chance of last-minute problems due to a slow response of the company's representatives as the moving date is due.
Nevertheless, the teams make a good impression, creating estimates for potential clients and signing agreements. To avoid any issues mentioned above, we recommend contacting the Colonial Van Lines company frequently to get all the answers and clear information beforehand. Making an informed decision is what makes any cooperation work out.
What Services Does Colonial Van Lines Offer?
Over 200 partners of the company offer the following services nationwide:
Long-distance moving services.
You can move from one state to another, no matter how far away they are. Colonial Van Lines has a "cross-country" service which is the main player in this category. You won't be left alone half-way. Besides, automobile transport is also available for your vehicles.
Small and large commercial moving services.
The company takes care of small and large companies moving with complete relocation management. A specialist is assigned to your project to make sure the process is smooth. Your equipment, office, furniture, and other important items are subject to dependable insurance programs to ensure the security of relocation.
Short-term storage.
If you can't move in right away and need to store your things somewhere safe for a short period of time, Colonial Van Lines will meet your requirements. A secured container or trailer is used to store everything you need until it's time to move into a new home or office.
Long-term storage.
Of course, long-term storage is also available, both for residential and commercial projects. You get a storage unit with flexible warehousing options and maximum security. The facilities will secure your things from dirt, dust, and weather factors like high humidity, hot or cold temperatures. The climate inside the storage is customizable.
Packaging.
Every item of furniture is secured with a special moving blanket that helps keep its integrity while moving and storing. You can add or remove this service when ordering a moving package or change it to meet your needs. Aside from the blankets, you can choose another type of packaging like foam, mattress cover, tape, bubble wrap, etc. Specify the size of the object and the material you want it to be packed with.
Mobile application.
We consider it an additional service. The application is improved with every update for the clients' convenience. You can create visual moving quotes there by providing photos or videos of the items you want to move. The data is secure and is only available to a professional who will create an estimate for you. This app also allows for choosing additional services like packaging, its material, etc. The "checklist" feature will help to be organized while the items are being moved. The view of the house or office you're moving into (doors, staircases, etc.) give more information for proper moving out and moving in.
Colonial Van Lines brings innovation to the process. We recommend downloading the application before ordering any services or asking for an estimate. It provides many more opportunities than a simple call.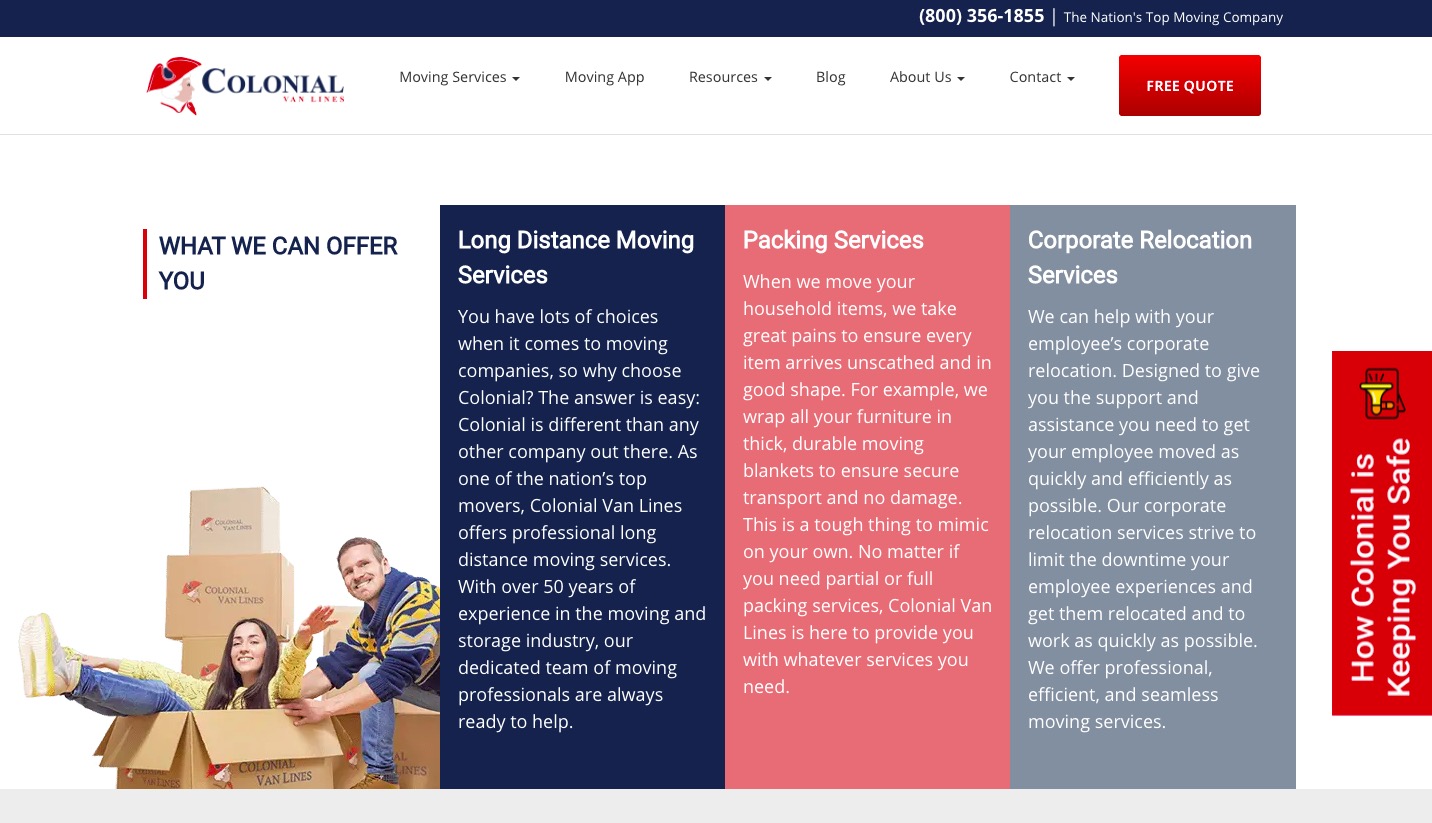 How Much Does Colonial Van Lines Cost?
Colonial Van Lines doesn't have any information on the pricing on their website. Every client's case is unique, so it's difficult to make estimates without knowing how many items you want to move and where they will go.
The company states that the fees are reasonable. Besides, there's an option of getting a cost estimate for your particular case. While a lot of potential customers find it inconvenient that they can't see the prices right away, it's a common practice.
Here are some factors that will influence the final payment on your moving project:
How many items you need to move; their volume and weight;
How far is the place you want to move to (it can be a neighboring state or one on the opposite side of the country);
Whether you'll need special packaging;
Whether you'll need storage before moving in;
When you want to move (weekends and holidays increase the price of services).
The final price consists of the insurance payment, pay for labor, fuel, and taxes. There's more information on pricing on the Colonial Van Lines website.
How to Get a Quote from Colonial Van Lines?
There are several ways to get a quote from the company. All of them are equally effective, so choose whatever is the most convenient:
Customer service.
Give a call to the support team and tell them about your needs. Specify the date of the move and how heavy a load of items will be. Tell them where you want to move and other important details.
Website form.
There's a request form you have to fill, specifying the same information: starting and final locations, the volume and approximate weight of your items, the date, etc.
Mobile app.
With the mobile application from Colonial Van Lines, you can get the most accurate quote by going through the whole list of things you need to move.
As a result, the quote will be sent to your email. If you're satisfied, call customer service and finalize the agreement.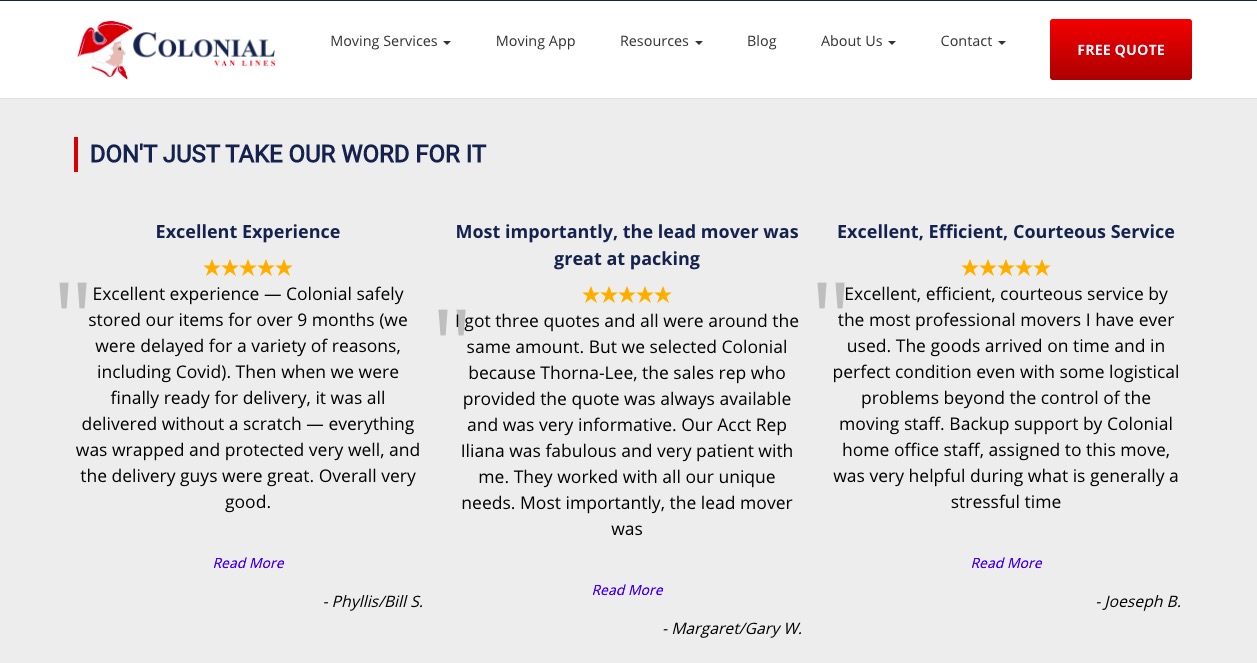 Is Colonial Van Lines a Good Mover?
Overall, Colonial Van Lines is a good company to choose for your next move. Although there are downsides, the basic customer experience is on a high level. You don't have to pack your things and move them on your own, after all, which is worth the money.
For more information on the cost and additional services, please, refer to the official website of the company. Consider contacting their customer support in case you have more questions.