Mover companies have gained well-deserved popularity for making large moves easy, convenient, and free from stress. Partnering with a move-organizing service like Mayflower Moving Company makes sense when you need to transport a considerable amount of property and need your special needs to be met. So, this Mayflower Moving review will let you find out as much as possible about the agency and see the real pros and cons of hiring Mayflower local agents.
What to Know About Mayflower Moving Company
First of all, it is a company for long-distance moves providing an extensive range of services to help you deal with every step of your move across the US. It covers the stages from packing and unpacking to transporting large and fragile pieces of your belongings so that no losses can take place on the way. The company is known to offer its services to both commercial and residential clients and provides customizable packages. For those of you interested in purchasing an apartment in a new city, the company also partners with the reputable real estate service CityPointe, so by choosing it, you may solve two tasks with one decision.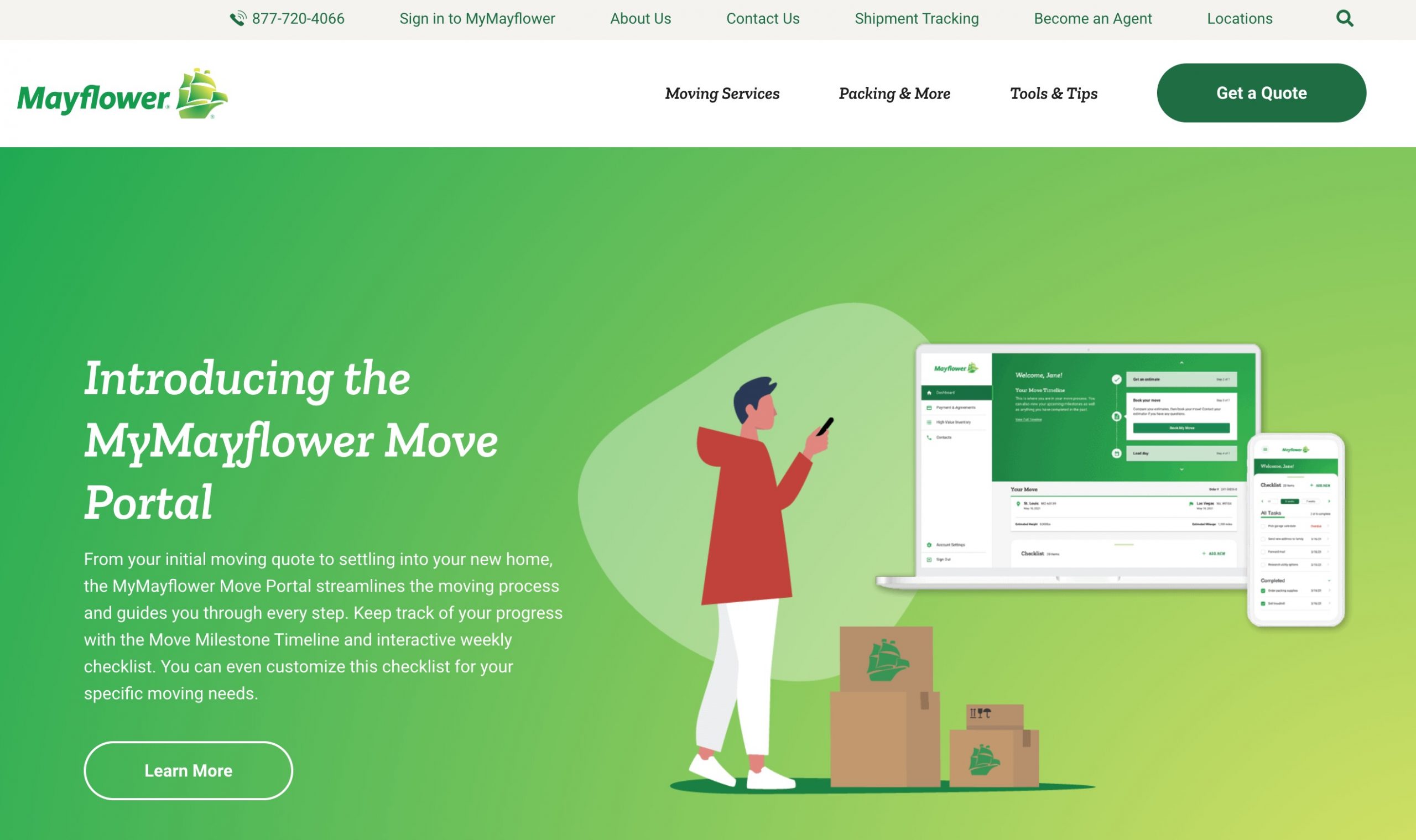 Pros and Cons of Mayflower Moving Company
Having a variety of coverage offers and individually chosen packages, the team still has got both pluses and minuses that are crucial to keep in mind. Though promising safe transportation and outstanding help with relocation, you might get a bit upset with the company's process of estimating if it plays for you a significant role.
For our Mayflower moving company review to let you look at the full picture of advantages and disadvantages that we have found, we have placed all of those points in the following chart.
| | |
| --- | --- |
| Pros | Cons |
| 1) A convenient and nicely organized system of agents | 1)Contracting with other companies to carry out your move; this might add up to the confusion |
| 2) Being an FMCSA certified company | 2) Pieces of outdated info on the official website |
| 3) Reliable Mayflower moves and storage | |
| 4) Helpful online blog to help you plan up your move. | |
| 5) Providing full-service solutions plus a number of additional services | |
| 6) Customizable packages | |
What do we like about this mover? First of all, it is a worthy place to find everything you need and not more or less. Due to the function of customizable moves, you can be your own boss telling the company what kind of packing or unpacking to include, whether to file for insurance or simple and comprehensive protection plans for the property and even adjust such details as cleaning service.
Its complete guidance cannot be left aside too. Over 90 years of experience in the sphere and thousands of Mayflower Moving reviews tell us that it is also a great option when you want the move to run smoothly and avoid fuss. Following its advice on different aspects of a move, you can build a plan that will work and remain calm during the way. All of the pluses make the process a clockwork guided from the start to the end, as many Mayflower Van lines reviews claim.
What could get you disappointed is, perhaps, the need to know all of its partners who carry out this or that part of the job. You might also be misled by irrelevant data placed on the website. And though the agency's SMM needs improvement, you could always specify the info by talking to a local relocation agent.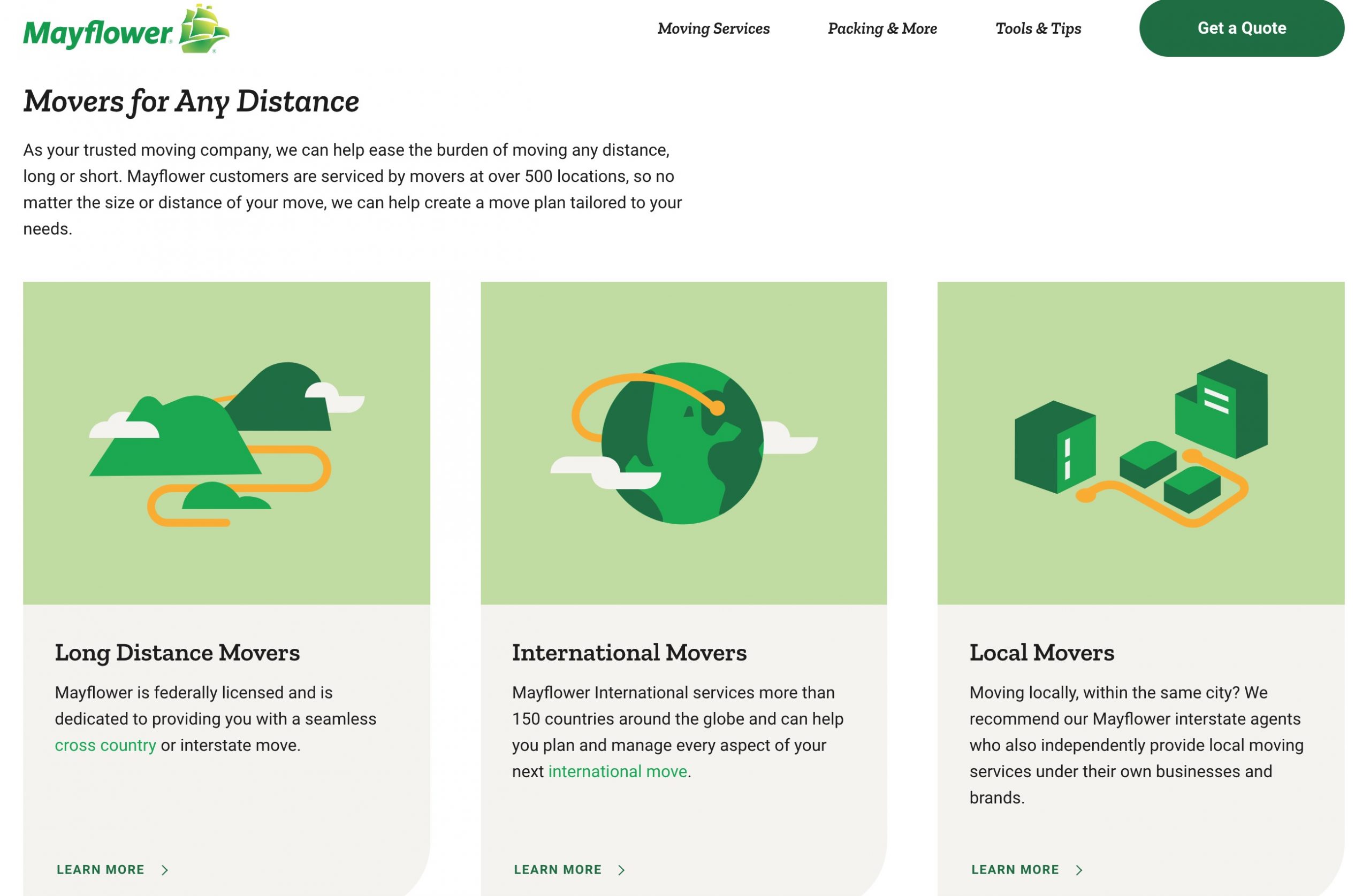 What Services Does Mayflower Moving Company Offer?
Highlighting the outstanding features that we marked as 'pros' in the Mayflower moving company is still not enough to have a grasp of the company's work. So, for you to rely on a full description, here is the list of services offered by the mover.
Various options of coverage
Packing and unpacking luggage
Across-state, international, and local moves
Mayflower storage services with increased security
Military moves
Relocation for medical and corporate facilities
Excellent Mayflower van lines for transportation of vehicles and boats
Ensuring safe transportation of especially fragile possessions such as musical instruments, pieces of artwork, etc
Cleaning services before and after
Multimedia assembly and disassembly
Providing packing supplies
Furniture assembly and disassembly
How Much Does Mayflower Moving Company Cost?
There is a set of things included in a price of a big move. In most cases, they include:
The total weight of your possessions for shipping
The distance between a home point and a destination
Prices for the fuel
The cost for the services chosen individually
That might seem a little vague, but this is the way every relocation company works. With this company, it all will also depend on how far you are going to move, how much luggage you have, and whether it requires special treatment during shipping. So, when do you normally get a more definite price?
Still, while you can't get the overall price right off, getting at least the slightest idea about how much you will have to pay is real. First, we would like to set your sight on the total price for the full version of package pricing. Roughly saying, the price will mostly depend on the basic package price and the mileage.
All in all, the agency offers a range of move packages.
Full-value protection.
Identity theft protection.
A personal move coordinator.
Claim assistance.
Truck loading plus unloading.
Apart from these, additional convenience Mayflower moving company services can be added to your basic package to make a move as smooth as possible. They include:
Move-out cleaning (for Plus 2 package)
Using a debris pickup
The disassembly and/or setup of a home theatre wall mount
The setup/disassembly of PC and related network
Basically, mover's packages include 3 options that we in our Mayflower movers review made visual with the help of the following chart.
Package type
Essential
Plus 1
Plus 2
The price
$195
$395
$595
Key standout features

Nearly $5,000 valuation protection

The destination waiting time period is longer
+ 1 convenience service of your choice
$25,000 valuation protection

Increased destination waiting
+ 2 convenience services of your choice
$25,000 valuation protection
How to Get an In-Home Evaluation for Your Move
Now, the details concerning the Mayflower moving cost of the move with Mayflower mover will be clarified after the so-called in-home evaluation of your household goods. At this stage, your awareness will rise, and planning will become much easier, although the answer will not be instant.
For getting an in-home evaluation, you just need to request this on the official website. Include your contact info and approximate basic info about your future move. After submitting this request, wait for a phone call from a representative to make an appointment for an estimate.
Still, today inviting an estimate expert to your house doesn't seem possible due to the lockdown measures. What shall you do in this case? Now, there is a nice way out to show your household goods over a video call – it is quite safe, convenient, and not so time-consuming.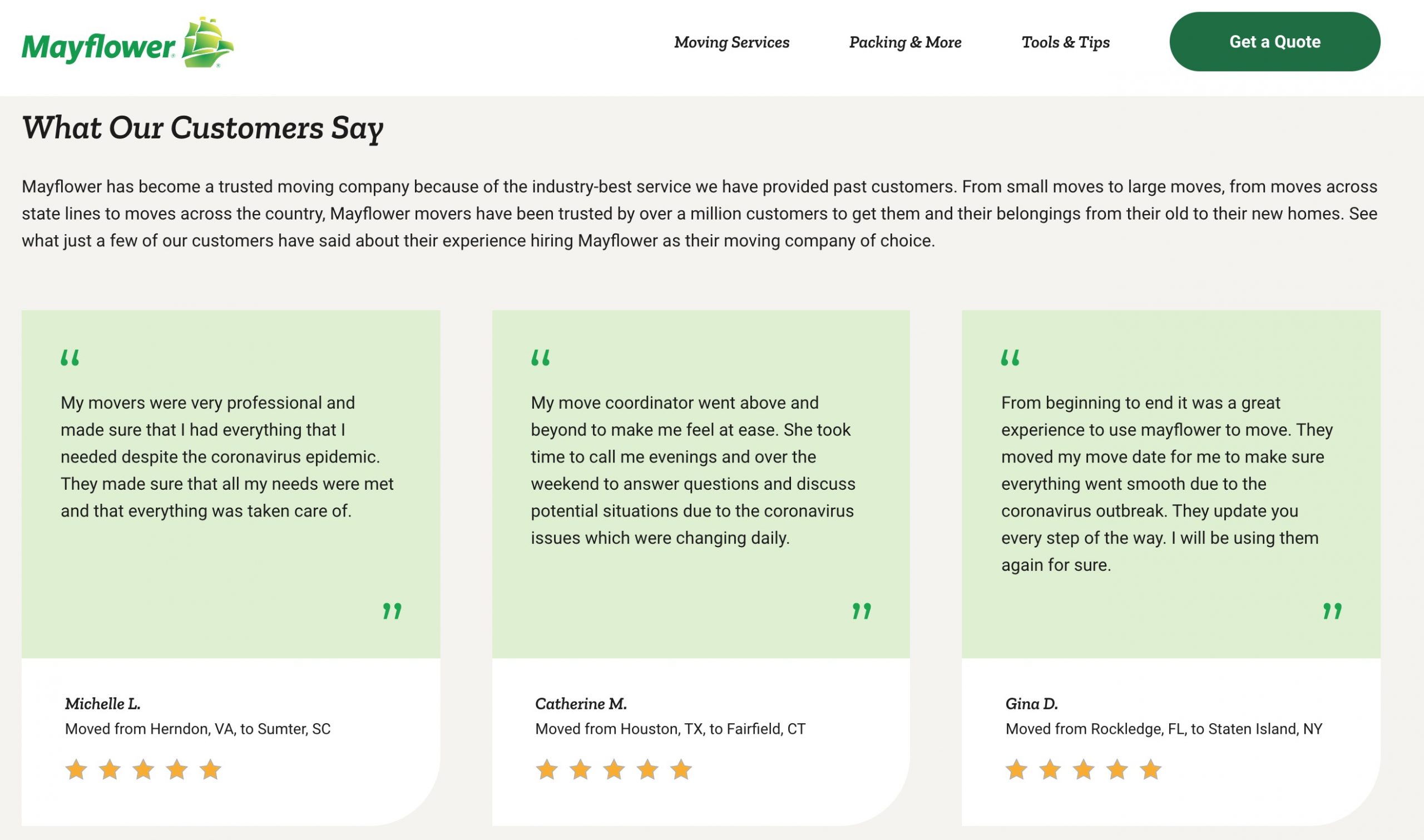 What Is Meant Under a Function of Full-Service Move?
A Mayflower mover review wouldn't be complete without highlighting the exact features inside the full-service option. When talking about the full-service option offered by the Mayflower moving company, we imply the most convenient function of the mover designed for those who are reluctant to do the heavy lifting job by themselves. It can also do a good service for people who are not allowed to lift heavy luggage and want to eliminate health risks. The full-service move quote includes loading, unloading, driving the truck, as well as packing and unpacking.
Professional movers will handle those mundane activities saving your time and energy. Apart from this, a full-service quote will cover the facilities like:
Good equipment for transportation and proven qualified drivers
Basic furniture placement
Full value protection
Reassembly or disassembly of simple bed frames
Guidance with your personal move coordinator
Loading, transporting, and unloading all household belongings
Standard transportation of appliances
What You Need to Know About Additional Coverage
Regardless of what kind of full-service you choose, the team is ready to provide different levels of coverage to secure your valuables or collectibles. For instance, if you've got an antique piano and want to insure for $10.000, you will pay the rate of an additional $5,50 for every thousand dollars of coverage. For such a piano, it would make $55.
Is Mayflower Moving Company a Good Mover?
So, concluding from numerous details of the company's work and dozens of Mayflower movers reviews, our final word would be 'It's worth it', especially if your move is particularly big and demanding. Traveling long-distance, you will have enough fuss and responsibilities so why not spare some of them for a reliable relocation company such as Mayflower moving company.
Despite certain difficulties with getting a quote nowadays, you can still get the maximum benefits from cooperation. So, if you are planning an international move or need Mayflower vanline a lot of possessions, including vehicles, this company is a good option to consider. So, good luck with your choice. We hope our review has clarified many aspects not seen in other Mayflower moving company reviews.