For somebody, moving houses is one of the most important decisions in their lives; for someone else, it is a normal routine. What groups them all in is the necessity of finding good, reliable, and with a good price-quality ratio. To help you choose among all the options you have and guide you through the selection of the best movers, we did our research among full-service moving companies.
These companies offer their moving services across states and will take care of everything, from start to finish, including furniture disassembling, loading and unloading, and driving to the destination. The pricing might be a bit higher, but it is definitely worth it because you won't have to think about anything, and it is perfect if you are planning a large move. Also, you can receive additional services for some extra pay, such as the packing of your furniture, which is always helpful. Here are our best moving company reviews.
Top Moving Companies
Allied Van Lines
The company, owned by Sirva, is among the top movers when it comes to long-distance travel and has one of the largest networks worldwide. It serves 50 states in the U.S. and more than 130 countries around the globe, partnering with local companies to reach your needs and provide you with an excellent service, wherever you are. There are four basic services provided.
Long-distance moves across states.

Short distance moves without crossing state borders.

International moves.

Car transportation and delivery service.
The basic quote includes full loading, unloading, transportation, and the Value Protection coverage, aka the minimum protection from loss and damage required by the law, all of this under the guidance of a personal agent who will coordinate everything. On average, the price for the first service provided by Allied is about $3,500.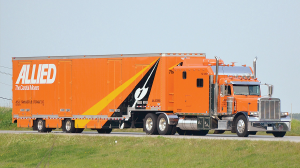 What makes the company particularly appreciated is the excellent customer service, which earned the company a great reputation and the top service they provide. To get a quote, don't hesitate and fill in the questionnaire on their website. Otherwise, their support service is always ready to assist you if you decide to contact them via phone number.
American Van Lines
What places American Van Lines among the top-rated moving companies is their excellent service combined with probably the best prices on the market. First of all, the company offers a wide variety of services: professional drivers, packing & unpacking, loading & unloading, moving supplies, moving insurance, and storage.
However, what truly makes the company one of the best moving services is their flat-rate pricing. What this means is that the company doesn't charge additional costs according to miles or fuel. Instead, you pay them a flat price. Such a price is calculated on the estimation the agents will make once they have the full inventory of the belongings you will be moving. The price is determined by the weight of your shipment and the amount of time it would take for them to move it. In case the move takes longer than expected you don't have to pay anything else, which is a very convenient and relieving measure.

Another great benefit that arises from this is if the company does its job before the time they estimated, they will have a profit. Therefore, it is safe to assume you have higher chances to see the transport get carried out faster than with any other company.
North American Van Lines
With decades of experience dating back to 1933, the North American Van Lines takes a spot in our list of the most reputable moving companies, particularly because of its large national network with over 500 local movers. What makes the company so appealing is the possibility to customize your move, offering you a wide range of possibilities and additional services to give you exactly what you want.
Based on how much money you are willing to spend, you can choose to go full service or strictly choose the services you need to be limited in your expenses. Some of these services include the entire packing of all your furniture, packing of the most fragile items only, help in your new home to assemble the furniture back or to plug the TV in, and much more.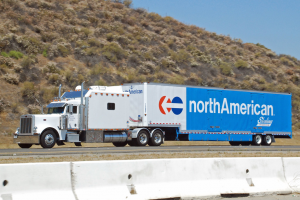 You won't have a problem moving with this company, as they have excellent organization and planning, so everything is under control. Plus, North American Van Lines provides instant estimates for your moves.
International Van Lines
Connected to a network of more than 3000 partners around the world, what makes International Van Lines so good is the vast range of services they offer, which go from piano transport to full-service packing of your entire house. Given its name, it doesn't come as a surprising fact that IVL in more than 180 countries, an impressive amount, as well as 50 U.S. states. If you are planning an international move, then IVL gives you the possibility to choose it happening either via ocean, for a lower price, or via air, which is simply faster.
IVL truly does it all, and it would be impossible to include all services (included in the price or additional) they offer, but some which make the company stand out to include long and short term storage, disassembly, and assembly of your furniture, home cleaning, special items transports and much more. What is more, pricing is absolutely transparent, and customer support is always available to have a chat and assist you.
PODS
PODS (Portable On Demand Storage) is probably the best moving company when it comes to container services. What differentiates this procedure from the typical one we analyzed in the previous entries is explained by its name. Containers are large boxes delivered to your home by the moving company, loaded by yourself with all the stuff you want to move, and picked up again by the company that will transport it to the destination indicated.
If you are ok with moving your items in and out of the containers yourself (eventually, you could pay extra for them to be loaded and unloaded by the company), don't want to spend a lot of money on full-service moves, and you are not making a giant move with heavy furniture, then PODS is for you. The company offers its services in 46 states, as well as Canada, U.K., and Australia.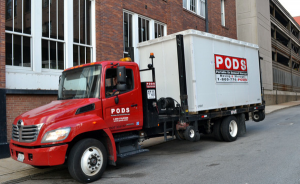 Some of the PODS' services include long and local moves, international moves only to the countries indicated, free cancellations up to a day before the moving, and instant quotes online (only for local moves). There are three container sizes. Note that the larger the container, the less weight it can carry.
Small. 7' x 7' x 8', the weight limit is 5,200 pounds.

Medium. 12' x 8' x 8', the weight limit is 4,700 pounds.

Large. 16' x 8' x 8', the weight limit is 4,200 pounds.
As you can see, the options are great and feature good sizes that will fit your needs, made in robust steel to protect all your belongings.
FAQ and Tips
How Much Does Moving Cost on Average?
Everything depends on the size and distance of a move. On average, a standard move of 4 or 5 bedrooms houses across states would cost about $10,000, whereas within a state much less, around $3,000.
How to Save Money While Moving?
There are a few things you can do to reduce moving costs greatly. One of these is to book early, better two months in advance, and to have flexible moving dates. Avoid moving unnecessary items, so try to get rid of everything you don't absolutely need, and keep in mind that moving mid-month and mid-week typically costs less.
What Additional Services Do Moving Companies Provide?
There are a lot of them, and it all depends on the company you are working with. Nonetheless, some basic additional services companies provide include full packing service of boxes and loose items, storage, additional insurance coverage, breakdown and assembly of furniture, etc.
Conclusion
We have reached the end of our article on the best relocation moving companies and the best tips to make the whole moving experience the simplest and least stressful possible. There are many possibilities for choosing a company, and it could be difficult to compare them all and understand which one to go for. Even though they seem all the same, if you do a bit of research, you will notice how they all differ a bit. We have suggested a few top movers, and now it is your turn to evaluate what services matter the most to you and thus choose what company will deliver better when it comes to those services.
Our final and most heartfelt advice is to do extensive research. Do not settle for a few positive reviews; check out comments, different websites, get in contact with the companies you are interested in, and find out by yourself if they are worth your money. You will find the perfect company, but such is not an easy task, and you have to be committed to spending a bit of your time on a quality experience.